When it comes to building a website, choosing a web hosting service is a big deal.
While GoDaddy is a well-known option, is it really the right choice for your website?
In this review, we take a closer look at GoDaddy and see what makes it stand out from the other options. We check out its performance, scalability options, security measures, and customer support — and compare its offerings with other popular hosting packages.
By the end of this GoDaddy review, you'll know what this web host has to offer and whether it's the perfect fit for you.
An Overview of GoDaddy
| | |
| --- | --- |
| SPEED: | 292 ms (average between Jan 2022 to Dec 2022) |
| UPTIME: | 99.96% (average between Jan 2022 to Dec 2022) |
| SUPPORT: | 24/7 Live Chat, Phone, WhatsApp |
| APPS: | WordPress, Joomla, Drupal, and 125+ Other Apps with one-click install |
| FEATURES: | Unmetered bandwidth, 25 GB storage, free SSL certificate, Office 365 email, and domain name for 1 Year |
| HOSTING PLANS: | Shared Hosting, WordPress Hosting, Reseller Hosting, VPS Hosting, and Dedicated Server Hosting |
| SITE TRANSFER: | Not free ($99.99 per site) |
| PRICING: | Starting at $2.99/mo (renews at $9.99/mo) |
Advantages of Using GoDaddy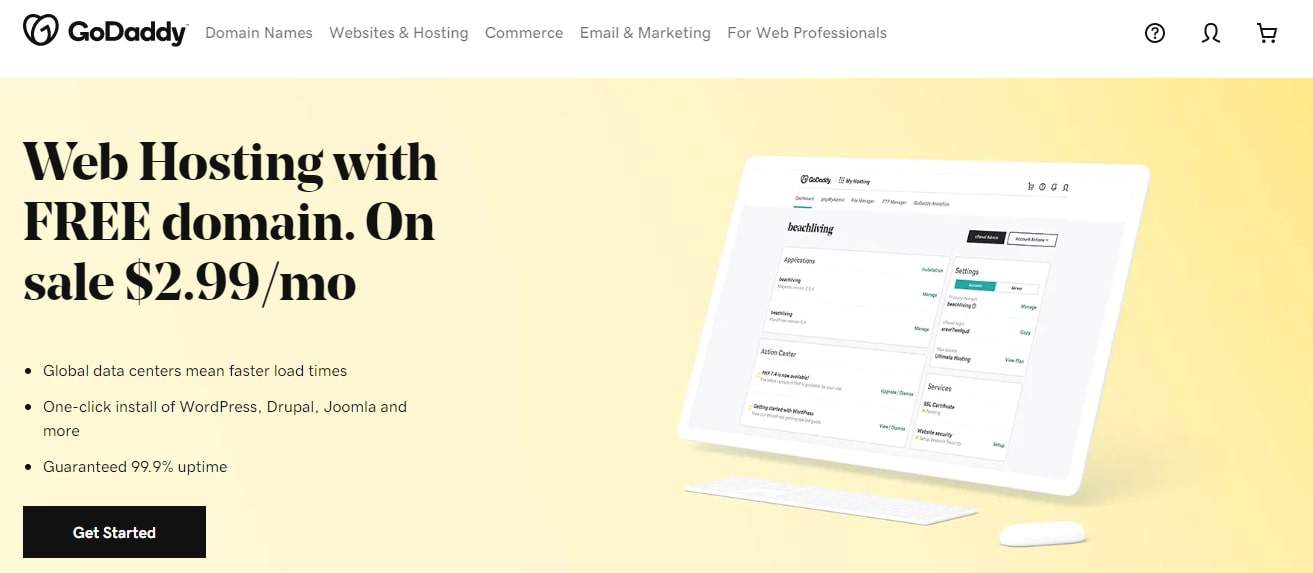 For small business owners, e-commerce startups, and entrepreneurs just starting out, GoDaddy hosting might serve as the perfect launchpad to success.
For starters, GoDaddy offers great discounts for its Economy plan — starting at just $2.99/month. This is a great deal for those looking to build their website without breaking the bank.
Also, GoDaddy's reliable uptime and fast page load times ensure your website is always accessible and quick to load, even during busy periods. This leads to higher profits for e-commerce businesses, as it encourages customers to stay longer and make purchases quickly.
What's more, GoDaddy makes website creation simple for small business owners by offering 125 free integrations that let them build and customize their websites even without prior coding experience.
For example, GoDaddy's integration with PayPal makes it easy for businesses to process payments securely and quickly. You can also enable a customer review system and gather useful insights from customers through the Yotpo plugin.
Add to the mix the knowledgeable GoDaddy support team, and it's easy to see why so many small businesses choose GoDaddy as their web hosting provider.
Now, let's go deeper into why GoDaddy might be the right hosting provider for you.
1. Decent Guaranteed Uptime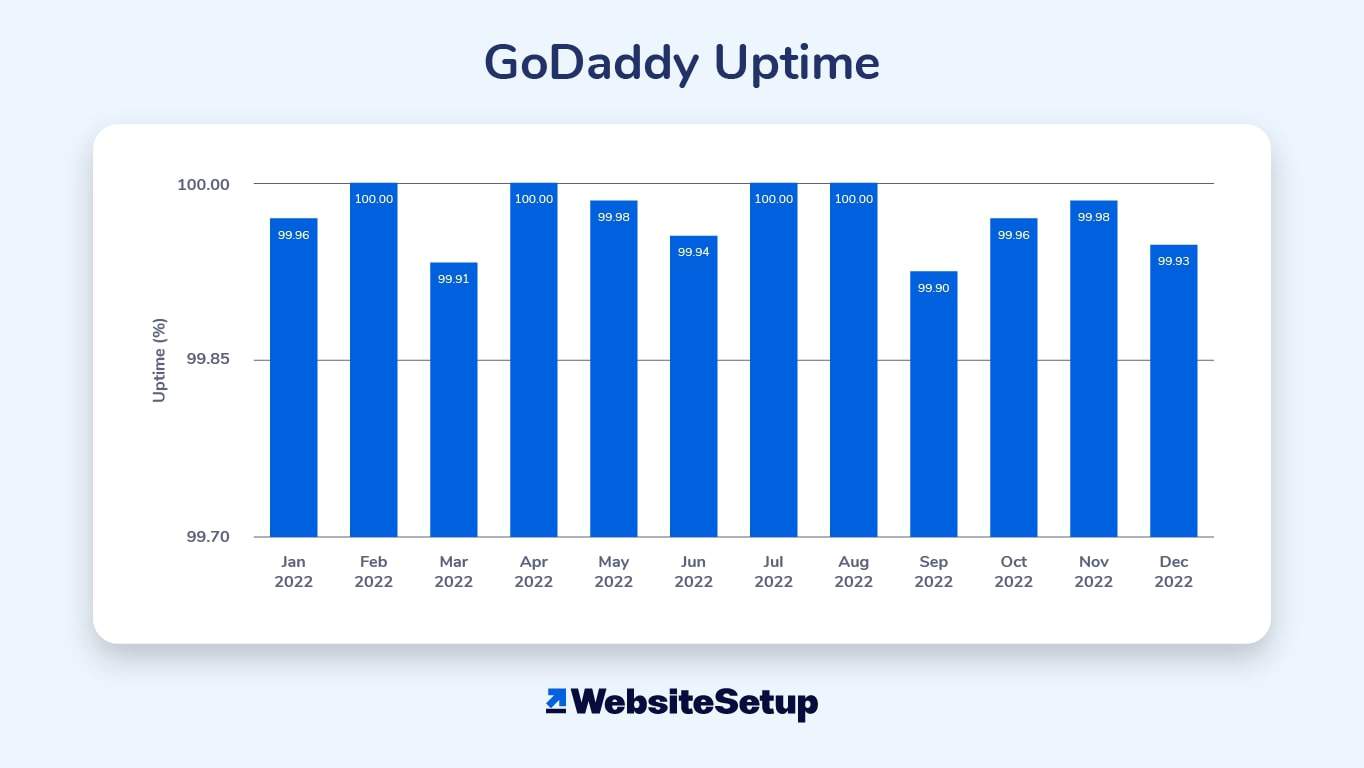 GoDaddy is a reliable hosting service with a 12-month average uptime of 99.96%, which amounts to less than four hours of downtime each year. This is above the industry standard (99.9%) and makes GoDaddy a good option for those looking for a reasonably priced hosting provider with a decent uptime.
That's a critical feature to look for since having a reliable hosting provider is more important than ever. A 2022 Uptime Institute report shows that over 60% of outages resulted in losses of more than $100,000 — a significant increase from 39% in 2019.
GoDaddy offers users peace of mind when it comes to uptime, giving you assurance that your website will remain online and available to visitors.
If you feel that "decent" is not enough, you might look into other hosting companies, such as A2 Hosting (99.98% uptime) or SiteGround (99.99% uptime). Nevertheless, GoDaddy offers more than enough reliability for small businesses and personal websites.
2. Fast Page Load Time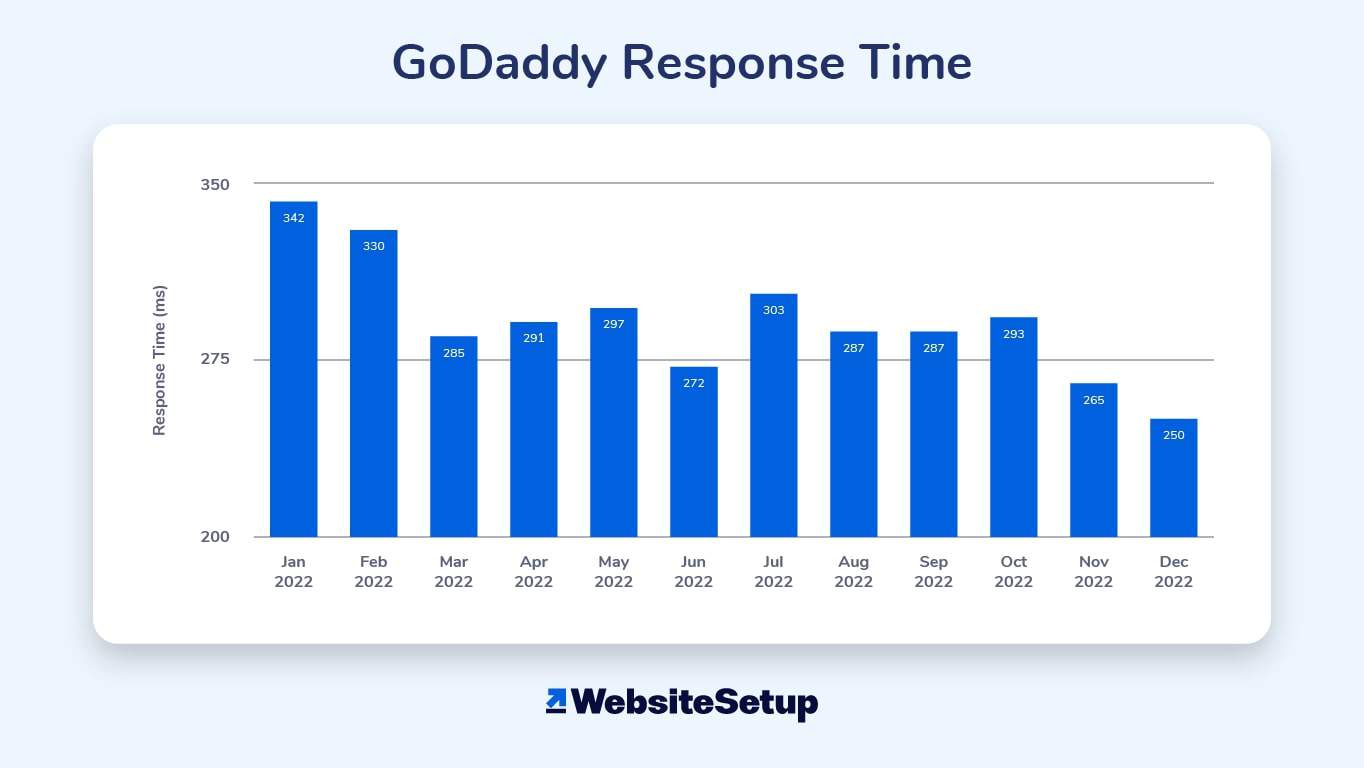 GoDaddy also offers fast page loading speeds. It had an average loading time of 292 ms in 2022, edging out other popular hosts like SiteGround (384 ms), A2 Hosting (295 ms), and Hostinger (318 ms).
Every second counts with page loading time. A 2022 Portent study shows that a website that loads in one second has a three times higher conversion rate than a website that takes five seconds or more to load.
GoDaddy's fast page loading speeds can be an advantage for business websites and online stores, as it could result in more visitors being converted into customers.
3. Economy Plan Offers Great Value (for a Single Basic Website)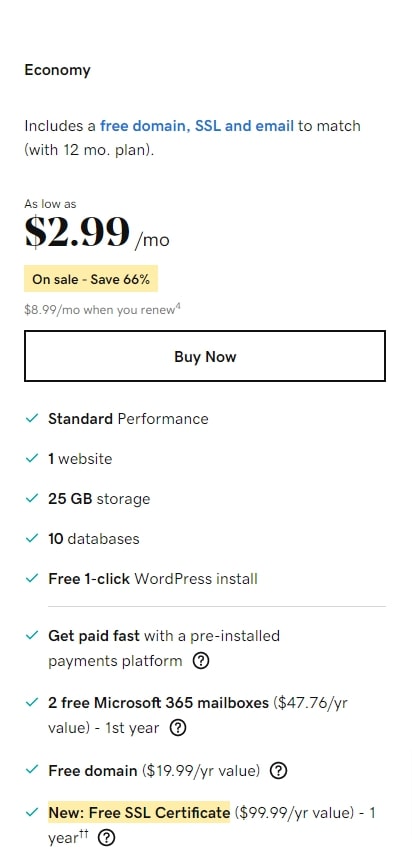 As mentioned earlier, GoDaddy's Economy plan is one of the best values for a single, basic website. Priced at only $2.99/month with a 12-month contract, it includes one website, up to 25 GB of storage, unmetered bandwidth, and a free domain name for an annual plan.
It also comes with a free SSL and Office 365 email service for two mailboxes for the first year. After that, SSL costs $99.99/year, and the Office 365 email service costs $47.76/year.
In comparison, Bluehost's single website plan is similar in price to GoDaddy's at first ($2.95/month with a 12-month contract). But Bluehost's renewal price is more expensive at $10.99/month vs. GoDaddy's $9.99/month.
In terms of storage, GoDaddy also beats Bluehost's 10 GB offering with a generous 25 GB of storage.
4. Over 125 One-Click Install Applications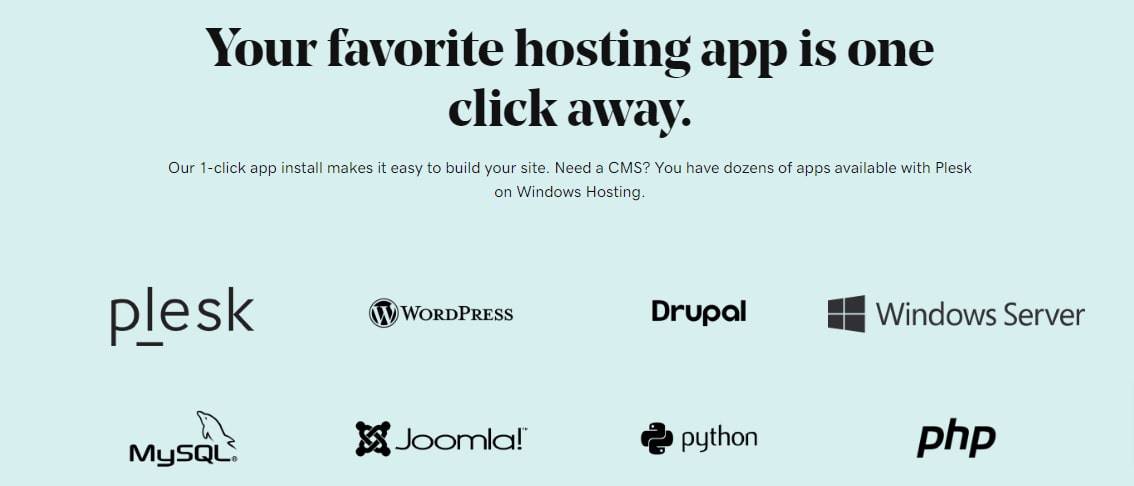 GoDaddy also offers one-click installs for over 125 applications. The host makes it easy to add popular content management systems (CMSs) like WordPress and Joomla. You also can add developer-friendly tools, such as MySQL, Python, and multiple versions of PHP.
Not to mention, GoDaddy has its own drag-and-drop website builder, with plans starting from $9.99/month. Using this builder, you can drag and drop website elements to create your website without any coding experience.

Disadvantages of Using GoDaddy
GoDaddy might be popular among small business owners, but this doesn't mean the platform is without drawbacks.
The initial cost of the cheapest plan might look like a promising deal. But you'll discover that the plan lacks key features like DDoS protection and free website migrations.
Also, before you get blindsided by the auto-renewal feature, be aware that the renewal pricing will be much higher than the initial discount.
Speaking of being blindsided, GoDaddy's money-back guarantee could be clearer. If you opt for the annual plan, you'll get a 30-day money-back guarantee. Choose the monthly plan and you'll only have 48 hours to change your mind.
To be on the safe side, don't forget to double-check the terms and conditions before making your final decision.
For example, while GoDaddy offers a refund time frame of 45 days on auto-renewal of domain names for one year, there are exceptions. With domain names ending in .au, .com.au, .net.au, and .org.au, you get only three days to ask for a refund.
Let's review GoDaddy's disadvantages in more detail.
1. Base Plan Is Missing Essential Features
GoDaddy's base plan may appear to be a bargain. However, it doesn't include essential features like advanced security and website migrations. Sure, you can add these features — but you have to pay extra.
For instance, GoDaddy charges $99.99 to migrate existing sites onto their servers. In contrast, HostPapa offers free website migrations with no downtime.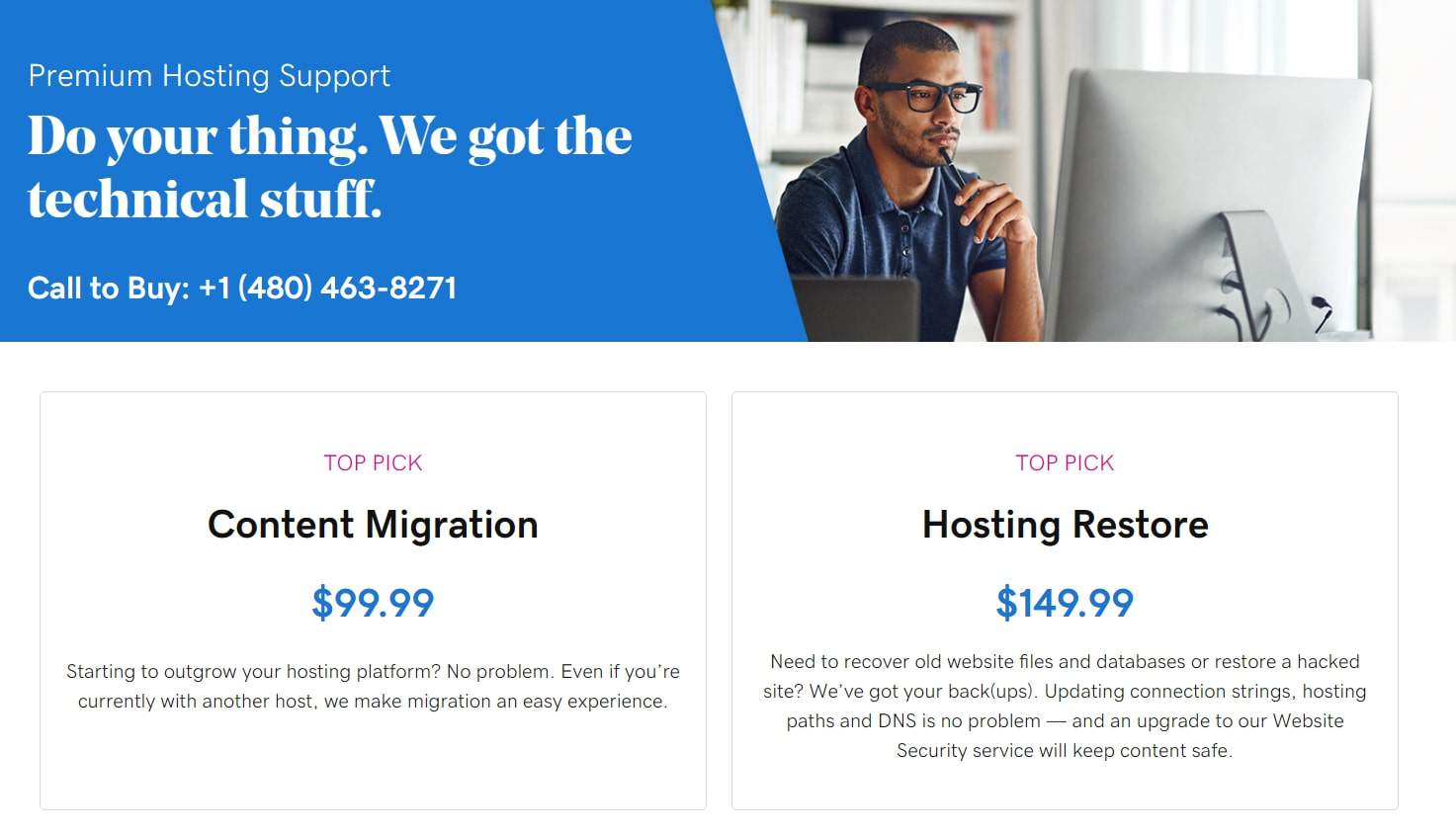 As far as security, GoDaddy's basic plan does offer a free SSL certificate, firewall, and malware scanning.
However, you'll need to buy an extra package to get advanced security features like DDoS protection and CDN integration. These features protect your website against malicious attacks, making them essential for ecommerce websites.
In contrast, Hostinger's base plan protects against DDoS attacks, while Bluehost offers a free CDN with its plans.
In short, while GoDaddy plans might be cheaper on the surface, they can quickly become more expensive with all the additional charges. Calculate the full cost of the features you need before deciding on any hosting service.
2. An Abundance of Upsells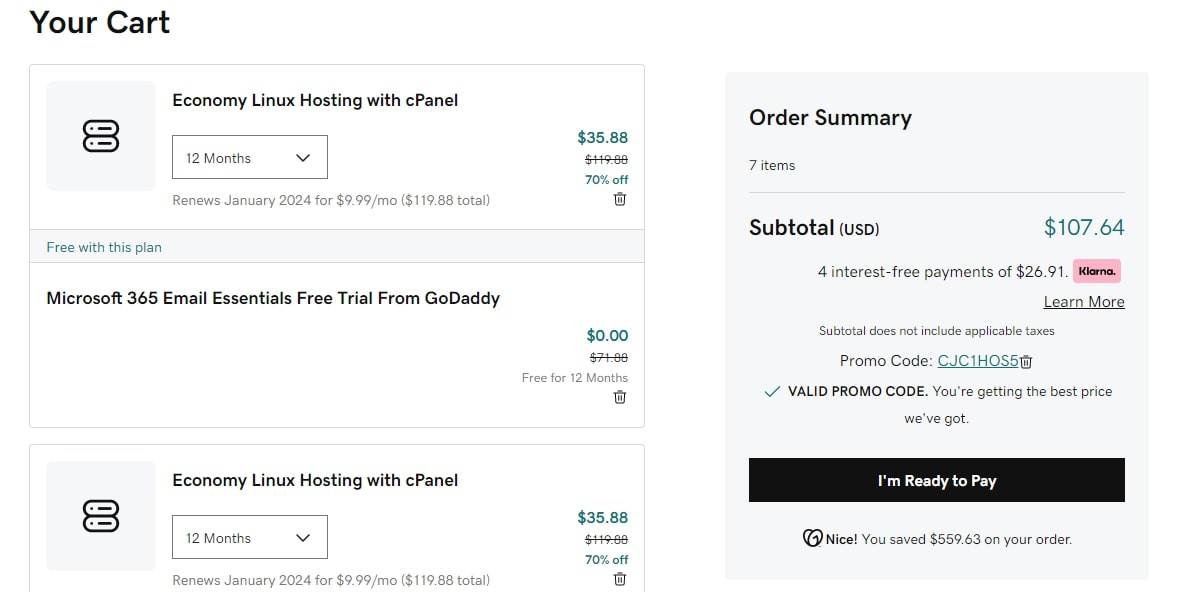 GoDaddy is no stranger to upsells. In fact, it may be the most notorious web hosting service for upselling, often trying to convince customers to pay two or three times more than expected during checkout with its many add-ons and promotions.
Many customers have complained about how GoDaddy's hosting plans appear cheap initially but contain a range of extra charges by the end of the order process.
As one G2 reviewer put it:

3. Inconsistent Customer Support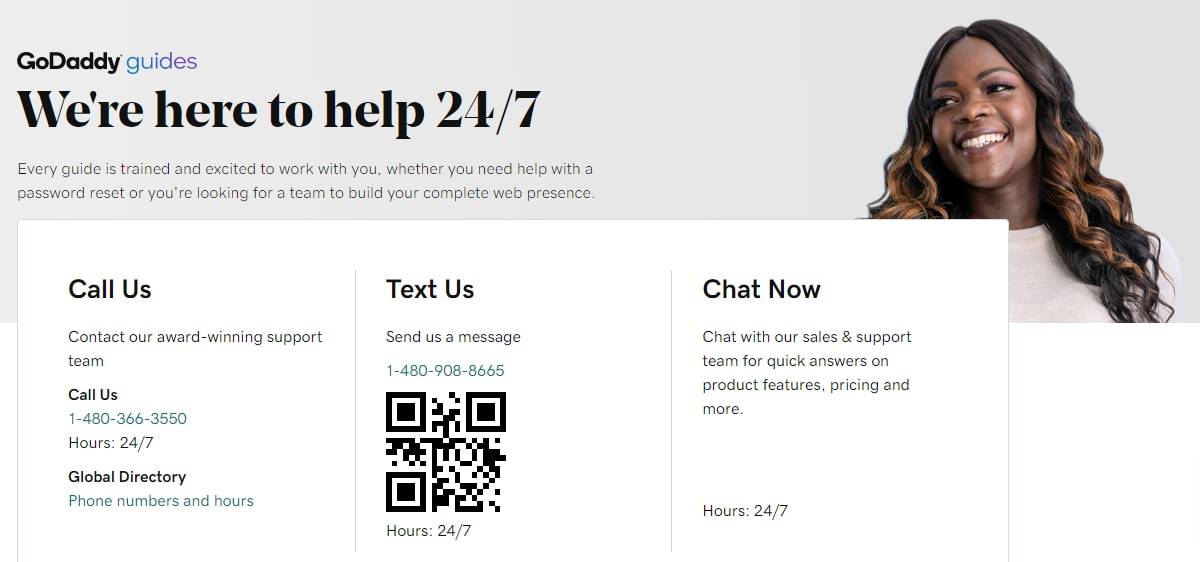 GoDaddy's customer service is a bit of a mixed bag.
It offers a wide range of customer support options, such as 24/7 live chat, phone support in multiple languages, and a vast knowledge base to help out with common queries.
So far, so good.
But when we tested the live chat support to ask basic questions about website backups, we had to wait five minutes to reach an actual customer service representative, which wasn't ideal.
On another occasion, we waited 40 minutes before we finally got some help. The response was knowledgeable, so at least the outcome was good.
In other words, GoDaddy.com can offer high-quality customer service, but unfortunately, the response speed still leaves something to be desired.
This Trustpilot review of GoDaddy sums it up: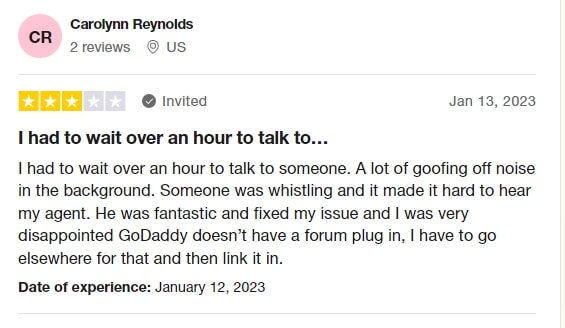 Quick Facts
Money-Back Guarantee: GoDaddy offers a 30-day money-back guarantee, but it's slightly confusing. You can find details on how to use it in the terms.
Website Migration: It offers managed migration services for a fee of $99.99 per website.
Free Domain: The host offers one free domain for the duration of any initial annual plan (12, 24, 36 months, etc.).
Ease of Signup: GoDaddy provides an easy signup process with little effort required.
Payment Methods: All major credit cards and PayPal are accepted.
Hidden Fees and Clauses: Be sure to read the refund policy and terms carefully to avoid any unwanted fees or misunderstandings.
Account Activation: Your account will activate quickly, and you can start using it right away.
Control Panel and Dashboard Experience: GoDaddy uses cPanel for managing your hosting services.
Installation of Apps and CMSs (WordPress, Joomla, etc.): Installing popular open-source apps on GoDaddy is straightforward with its one-click installation options.
Do We Recommend GoDaddy?
Yes, we do.
We recommend GoDaddy as a reliable web host because of its great loading speeds, reliability, and ability to work well with most apps.
It's an excellent option for small businesses, entrepreneurs, and beginners looking for an easy-to-use platform to build out their website and establish an online presence quickly.
In fact, GoDaddy's pricing makes it a no-brainer deal for testing out your idea.
Nonetheless, some important functionalities, such as additional website security, will cost extra. And the final cost may end up being higher than other hosting providers that offer those additional features in their base packages.
If those extra features are important to you, you may be better off looking at another web host, such as A2 Hosting.