HostMetro was recently founded in 2012 to specialize in providing only shared hosting.
They're also one of the only web hosts with a 'guaranteed price lock', so your pricing doesn't jump 200% when it's time to renew.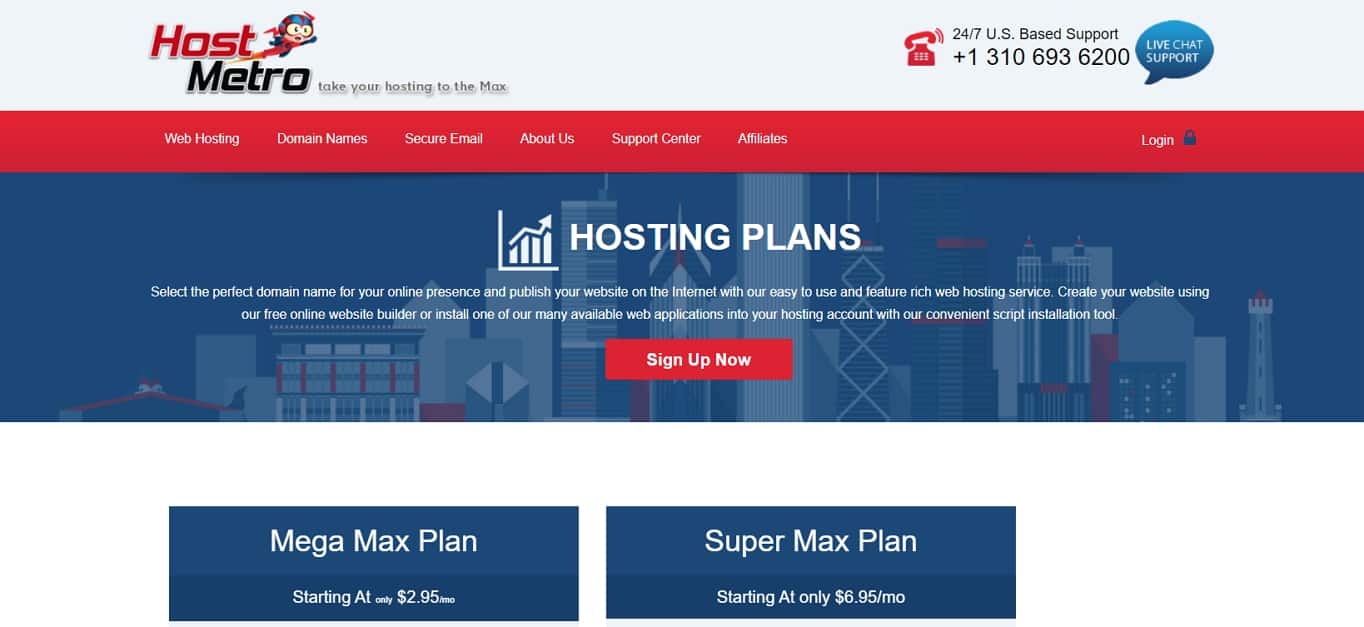 In addition, they boast 99.9% uptime to round out a decent array of offers for budget-conscious customers.
But are all of these claims too good to be true?
We set up a basic WordPress website on the HostMetro Mega Max Plan and we've monitored and analyzed their performance over an extended period of time, compiling the most important results including uptime and speed to be able to provide you with this unbiased review.
Let's get started.
General Info & Hosting Overview
---
| | |
| --- | --- |
| Our Rating: | Our Verdict: 3.0 |
| SPEED: | 823 ms (March 2022 to August 2022) |
| UPTIME: | 98.23% (March 2022 to August 2022) |
| SUPPORT: | 24/7 Live Chat, Phone, Email, Knowledge Base |
| APPS: | WordPress, Joomla, Weebly, Drupal, phpBB, etc. |
| FEATURES: | Unlimited Bandwidth, Storage, Websites, and Email Accounts, Website Builder, Softaculous 1-click Installs, Let's Encrypt SSL Certificate, and more |
| HOSTING PLANS: | Shared Plan |
| SITE TRANSFER: | Free (within 30 days of account creation) |
| PRICING: | Starting at $2.95/month (no higher renewal fees) |
---
Pros of Using HostMetro Hosting
---
HostMetro has quite many perks going on for them. We especially like their price lock guarantee and improved uptime.
But what else do they offer?
Let's have a more detailed look.
1. Decent Customer Support
HostMetro offers 24/7 live chat, email support, a knowledge base, and also phone support (available weekdays from 8 am to 8 pm (CST)).
We tested their live chat and our experience with HostMetro's customer support started pretty well. Their agent connected quickly and answered all of our questions in a timely manner.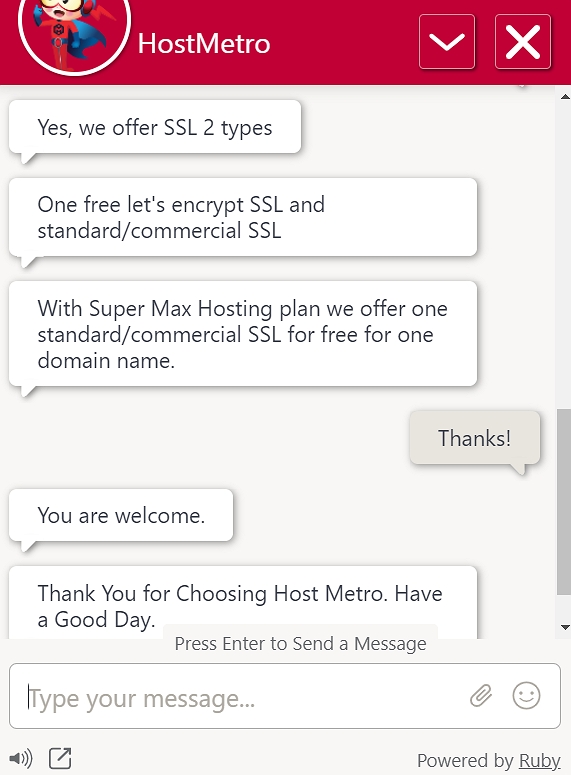 However, one thing to note is that before you start your chat, you will have to give out some personal information to them (name, email address, primary domain name), so make sure you're okay with that.
2. Price Lock Guarantee
Most hosts suck you in with a ridiculously low rate the first time you sign up with them. When your plan is up and it's time to renew, that low rate disappears and your price can double or even triple seemingly overnight.
HostMetro bucks that trend though, guaranteeing your initial registration rate – even for future renewals.
That's a tremendous deal, offering a huge price advantage if you plan on sticking with them long-term.
For best month-to-month hosting, use Dreamhost.
3. Free Website Transfer (With Limitations)
HostMetro will happily migrate your existing website over to their servers for free.
However, there's a catch.
You can transfer your site only if it doesn't exceed 3 GB.
And the site migration needs to be requested within 30 days of creating an account.
What if your site doesn't fit the guidelines?
Well, then you'll have the option to go with HostMetro's premium site transfer. But it will cost you a one-time fee of $29.99 (also non-refundable).
4. 99% Uptime Guarantee
The Terms of Service page for most hosts is where optimism goes to die.
What seemed like such a good deal at first quickly starts turning into a nightmare as you read one questionable policy after another.
However, every now and then you come across something positive that restores your faith in some companies.
Buried inside HostMetro's Terms is their Uptime Guarantee policy.
If their annual uptime average falls below 99%, you'll get a free month of hosting credited back to your account. Even though this mark is lower than the average uptime we've seen across other hosts, it's still a good policy that shows they stand behind their service.
A few standard exceptions apply, too, even if they're fairly common. If one-off events like a natural disaster or big hack take place, this downtime won't be factored into the uptime average calculation.
5. 30-Day Money-Back Guarantee
If you're unhappy at any time during your first 30-days as a new HostMetro customer, you can ask for a full refund. Overall, that's a great thing.
Just keep in mind that there are a few issues that can affect your refund amount.
First, refunds only apply to hosting plans. So that means other add-ons, like backup services, or domain names aren't refundable.
The good news about domain names is that if you paid for one, you can take it with you to another host.
However, if you were given a free one through HostMetro, then the normal cost can be reduced from your refund balance. They can also subtract the cost of free SSL certificates, too. Make sure to double-check your plan when getting these 'free' extras, because they could come back to literally cost you when it's time to ask for a refund.
6. Unlimited Features Included With Their Cheapest Plan
HostMetro offers a lot of unlimited features even with its cheapest plan.
For example, you'll get an unlimited amount of websites, email, and FTP accounts. Their bandwidth and storage have a quota for maximum hosting space, however, according to HostMetro 95% of their customers will never reach this limit. In case you'll reach the quota, you'd have to contact their customer support and they will increase it for you free of charge (if you're within their terms).
Considering how many other hosts on the market like to limit their cheapest plans, we're glad to see that HostMetro doesn't do that.
7. Easy-to-Use Control Panel and Dashboard
HostMetro's backend shouldn't be a problem to navigate around. It's quite common also among other hosts on the market. From there you can access your domains, billing, services, and more. On the main page, you can also see usage statistics. On the left side of the client area, under "Actions" is the control panel login.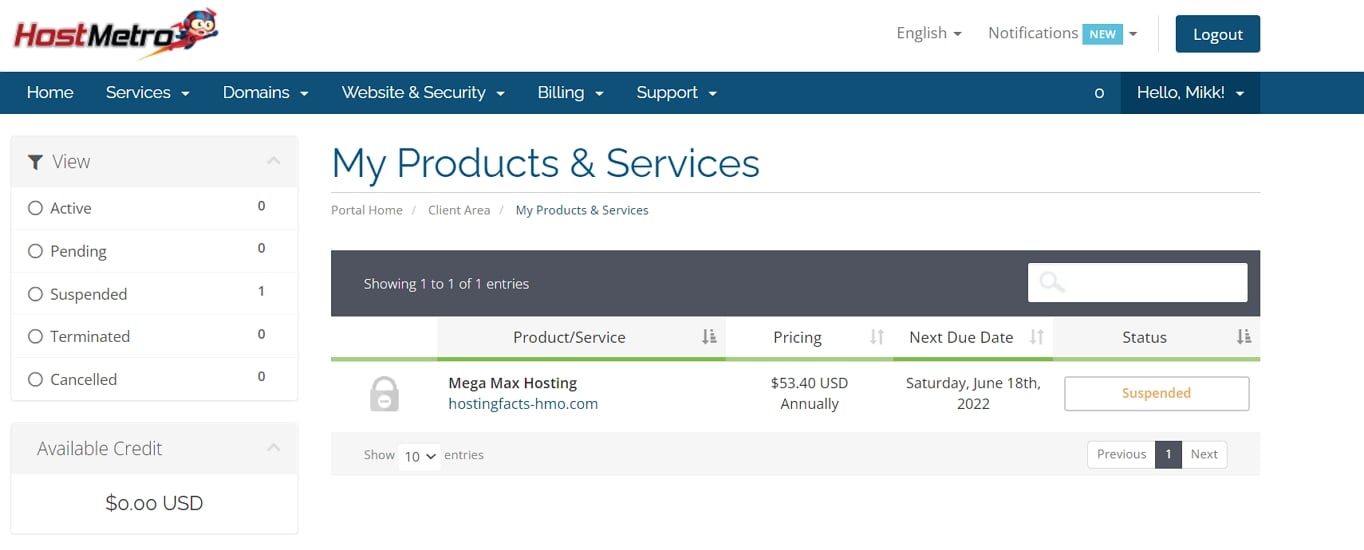 HostMetro uses traditional cPanel as a control panel. It's easy to use and you can find all the necessary for website hosting from there with no difficulty. There's also a search bar included to smooth things out even more.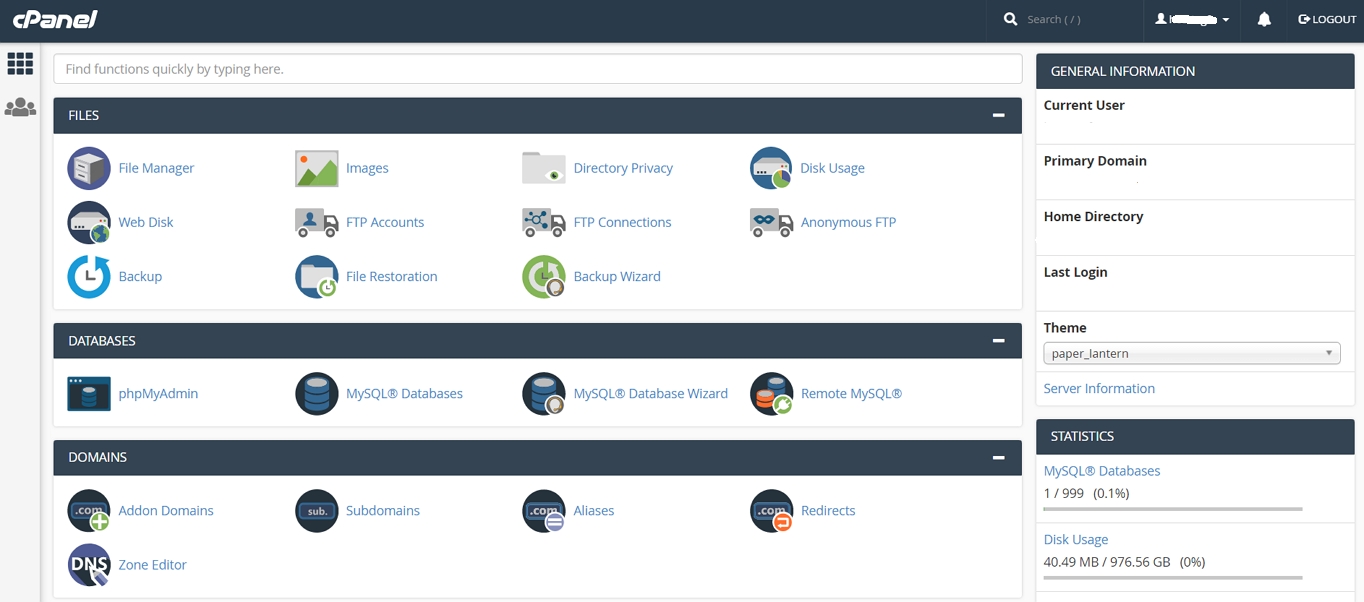 Cons of Using HostMetro Hosting
---
HostMetro has quite a few things to like, but unfortunately, there are also some downsides that come with their services.
Let's start with a slow response time.
1. Too Average Speed
Over the last 6 months, HostMetro managed to put up page loading times of 823 ms.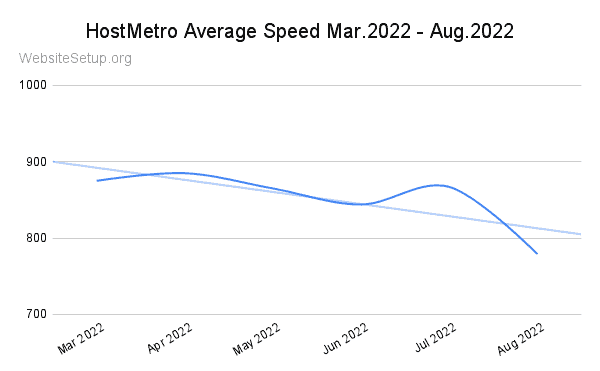 That makes HostMetro three times slower than A2 Hosting.
Considering that a single-second delay can result in 7% fewer conversions, HostMetro might cost you more in lost sales than actually paying for their service.
The good news is that there has been a slight improvement in their speed data, however, they're still a bit too average and unstable to earn a place in our pros section.
2. Poor Uptime
HostMetro delivered an average uptime of 98.23% over the past 6 months, which is also one of the worst uptimes we've seen among other hosts. In total, they had three days of downtime and 34 outages.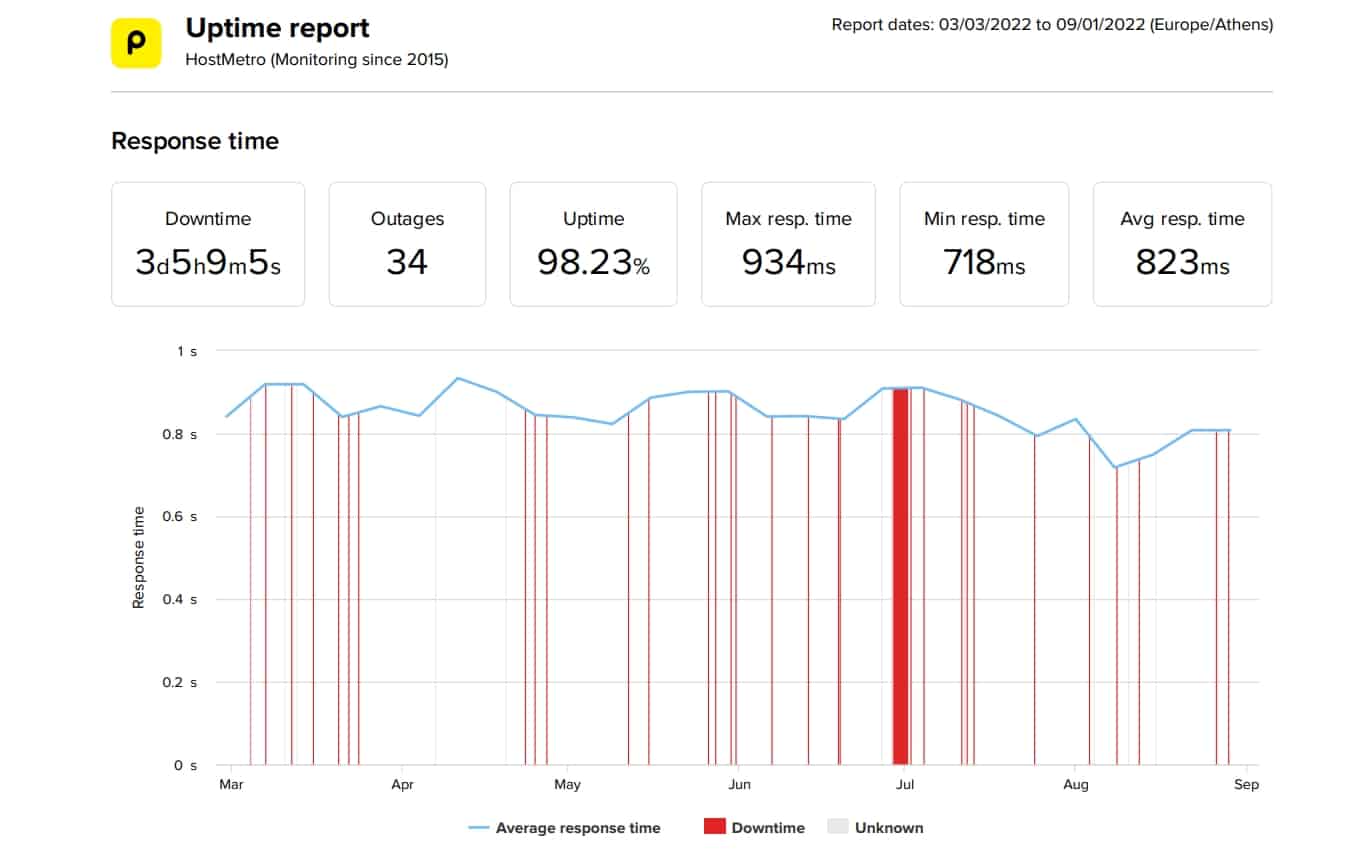 Last 6-month average uptime:
August 2022: 99.47%
July 2022: 97.94%
June 2022: 96.92%
May 2022: 99.94%
April 2022: 99.97%
March 2022: 99.89%
3. Backups Are Not Free
Backups are an essential feature because issues will undoubtedly pop up from time to time. Most hosts offer them in some capacity, whether free or paid.
HostMetro's Terms say that they offer "free backup services as a courtesy."
Sounds awesome, right? Having regular backups on hand can save you a lot of hassles if your site gets hacked.
But there are three big problems with this claim:
This backup service only runs once a month (ideally, you should have daily or weekly at a minimum).
They will only backup 1 GB of size. That's not very large, to be honest, so you'll probably pass this at some point.
And worst of all, to restore the backup, it's going to cost you $39.95.
If you want to get your sites backed up weekly, then you would have to pay $19.95 annually. However, if you sign up with their Super Max Plan, anytime (weekly basis) free backups will be already included in the package.
4. Only Shared Hosting
HostMetro only offers two shared hosting plans. No VPS, no cloud, or dedicated hosting options are available.
That will make it tough to scale your existing infrastructure if you outgrow things quickly, forcing you to move to another web hosting company in the near future if you get to that point.
5. Restrictive Free Domain Offer
They offer a free domain name when signing up, but only if you use their "freedomain" coupon code.
Domain name renewals (or purchasing additional ones) will set you back an additional $14.49, which is more expensive than many other major domain name registrars.
6. Short-Term Plans More Expensive
HostMetro advertises a $2.95/monthly price. However, to get that price, you're going to need to sign up for a full three years.
There is no plan that's shorter than a year in length. And even that one-year option will cost $4.95/month. You also have an option to choose a biennial plan with a $3.95/monthly price.

HostMetro Pricing, Hosting Plans & Quick Facts
HostMetro only offers shared hosting. Here's a quick overview of their shared hosting plans:
---
Mega Max Plan
Super Max Plan
Pricing
$2.95/month
$6.95/month
Websites
Unlimited
Unlimited
Bandwidth
Unmetered
Unmetered
Storage
Unmetered
Unmetered
Email Accounts
Unlimited
Unlimited
Other Features
–
•Free SSL and SiteLock Security
•Anytime Backups Included
---
Quick Facts
Free Domain: Yes (for the 1st year)
Ease of Signup: The signup process is a bit difficult. This could be easier.
Payment Methods: Credit Card, PayPal.
Money-Back: 30-day money-back guarantee.
Hidden Fees and Clauses: Free site migration and backups are limited.
Upsells: A few upsells.
Account Activation: It can take a long time. You can make activation instant by paying a $5 fee.
Control Panel and Dashboard Experience: cPanel.
Installation of Apps and CMSs (WordPress, Joomla, etc.): Easy 1-click install of popular apps and CMSs with Softaculous.
Do We Recommend HostMetro?
Yes and no.
HostMetro's customer service is decent.
Also, their price lock guarantee is pretty cool.
On the downside, HostMetro comes with a slow loading time and unreliable uptime. Considering site speed influences – not just user experience, but also your search engine rankings and conversions on your website – there's a serious danger to your bottom line (read: income) here.
Honestly, there are lots of web hosts out there that will give you much better page loading times, more stable uptime, and a better feature package for the same (or less) bucks.
---
Have you ever used HostMetro? If so, please leave a review below. We welcome all reviews, whether good or bad, as long as they're transparent and honest.