HostRocket may not have the same name recognition as HostGator, Bluehost, and DreamHost, but they've been around since 1999, with Headquarters in New York. They have data centers in New York and Chicago.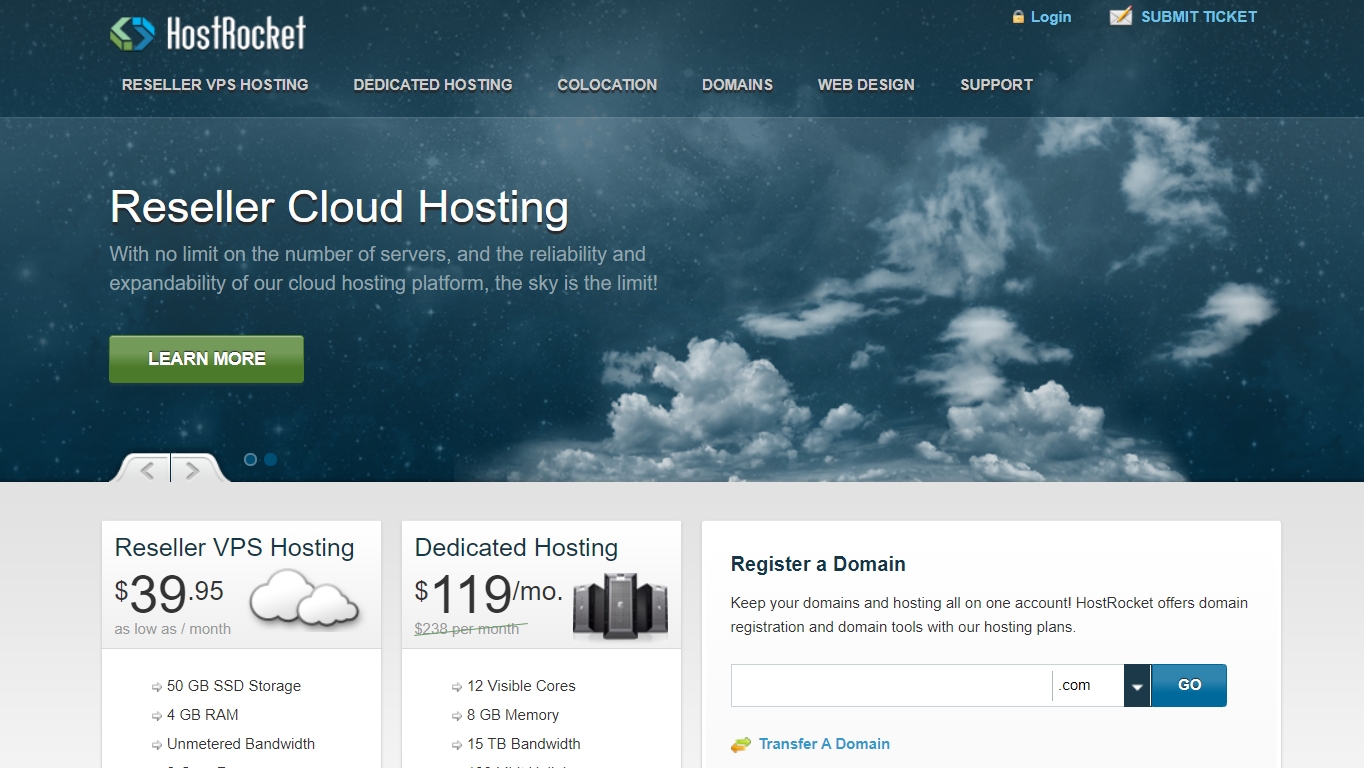 To find out what they're good at, we purchased and set up a WordPress website on the HostRocket 'Shared' plan and been reviewing their performance stats including uptime and speed to put together an unbiased review.
Did HostRocket perform well enough to get our recommendation?
Read on to find out.
General Info & Hosting Overview
---
| | |
| --- | --- |
| Our Rating: | Our Verdict: 3.0 |
| SPEED: | 687 ms (March 2022 to August 2022) |
| UPTIME: | 99.98% (March 2022 to August 2022) |
| SUPPORT | Ticketing, Knowledge Base |
| APPS: | WordPress, Joomla, Weebly, Drupal, phpBB, OpenCart, etc. |
| FEATURES: | Unlimited Bandwidth, Storage, Websites, Free Site Backups, DirectAdmin Control Panel, 30-Day Money-Back Guarantee, 99.95% Uptime Guarantee, Unlimited Databases, RVSiteBuilder, and more. |
| HOSTING PLANS: | Shared, Reseller VPS, Dedicated, Windows VPS, Linux VPS, Reseller Cloud Hosting |
| SITE TRANSFER | Not Free |
| PRICING: | Starting at $5.99/month |
---
Pros of Using HostRocket Hosting
---
HostRocket starts strong, delivering decent customer support, loading times, and many apps to choose from.
Here's a quick overview:
1. OK Loading Time – 687 ms
Speed is something that HostRocket hasn't always excelled at. For example, during our testing period in 2018, they took an average of over one second to load.
However, the good news is that during the past year or more, HostRocket has stepped up its game and consistently delivered faster page loading times.
What is the result?
HostRocket delivered an average page load time of 687 ms during the last half a year.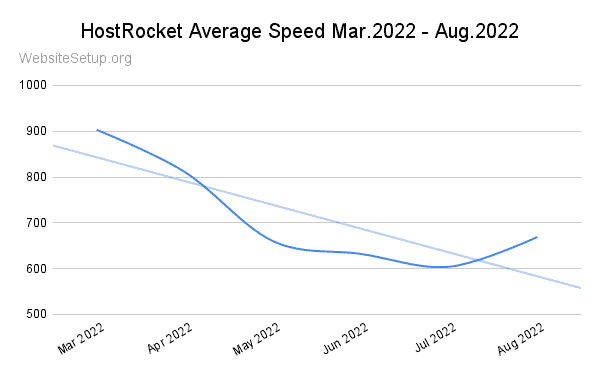 Why is it important to have a fast-loading website?
Because speed and the site's bounce rate are heavily correlated.
For example, if it takes more than five seconds to load a page, there's a 90% chance of a bounce rate increase. If you have a personal blog for your own use, sure, it won't matter much. But if you're an eCommerce business owner, it might affect your user experience (lost traffic) and overall profit.
2. Uptime of 99.98% Over Last 6-Months
Industry-standard uptime is 99.91% to 99.93%.
That means you can expect very little downtime (~26 minutes) in one month, which shouldn't affect your sales or customer support terribly.
HostRocket was able to hit an average of 99.98% which translates into 47 minutes of downtime, which is an above-average result.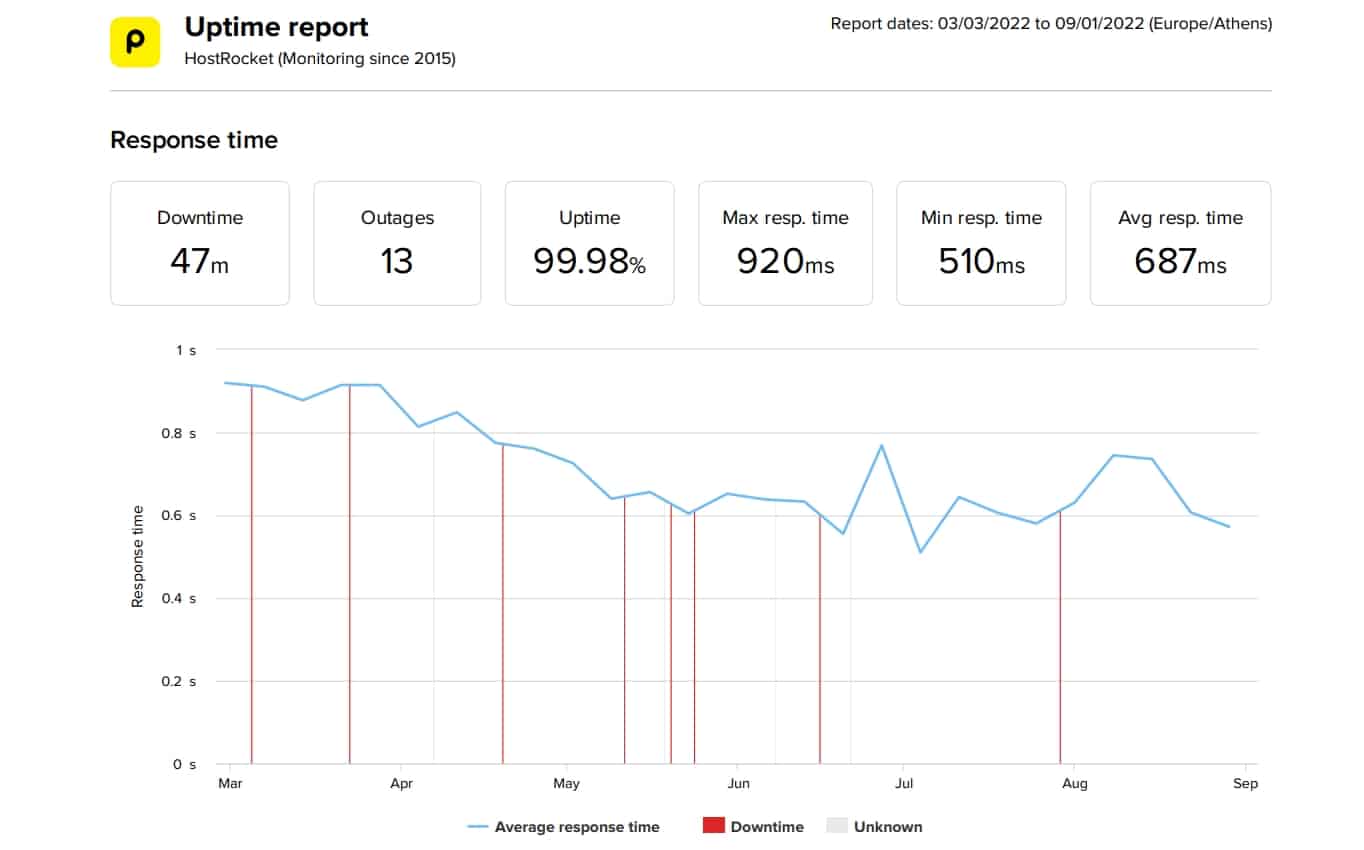 Last 6-month average uptime:
August 2022: 100%
July 2022: 100%
June 2022: 100%
May 2022: 99.93%
April 2022: 100%
March 2022: 99.97%
Also, it is good to browse their Terms of Service page which says the following:
"If you feel that your site was not up the guaranteed 99.5% during a given month, please submit a trouble ticket stating your situation and we will review this with you, and credit your account accordingly."
3. Good Support (Yet Limited)
HostRocket only provides customer support through a ticketing system, knowledge base, and telephone (no live chat or email).
Initially, we weren't very happy that there's no live chat option, as tickets typically take years (in internet speed anyway) to resolve.
But we were pleasantly proved wrong when only 4 minutes later we received an answer. Beyond the swiftness of their reply, it was also a helpful and informed response.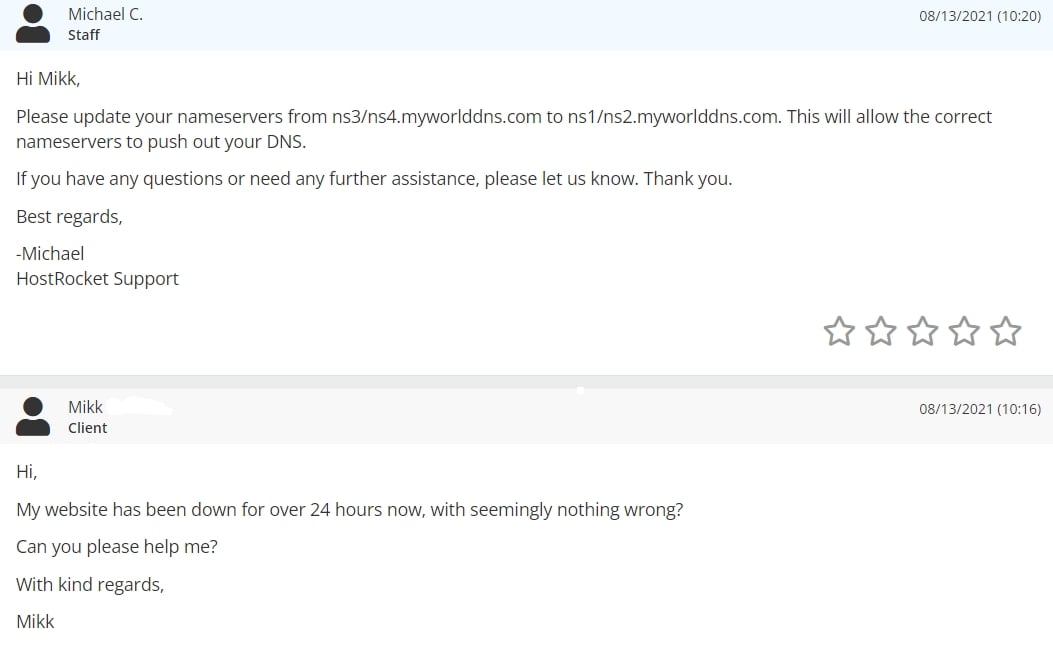 4. Packed with Many Features
HostRocket does not hold back what concerns "unlimited goodies". Their shared hosting plan is packed with many handy features like unlimited bandwidth, storage, email accounts, websites, free site backups, and databases. To name a few.

Many hosts try to limit these but that's not the case with HostRocket.
5. Over 250 App Integrations
HostRocket has integrations with over 250 popular applications (like WordPress, Drupal, Magento, Zen Cart, OpenCart, and more), which should help you get started a little quicker.
This is another small benefit worth mentioning before we move on.
6. 30-Day Money-Back Guarantee
HostRocket offers a 30-day money-back guarantee which is quite common among many other hosts.
This means if you're unhappy with their services, you're entitled to a refund of all the hosting fees paid, less any setup fees or domain registration payments. This, of course, is only valid during the first 30 days from the initial signup.
However, it's still better than nothing.
7. Easy-to-Use Control Panel
HostRocket's user interface is easy to use and logical.
From their dashboard, you can access your domains, account settings and check your tickets. Basically, anything linked to your hosting account is done there.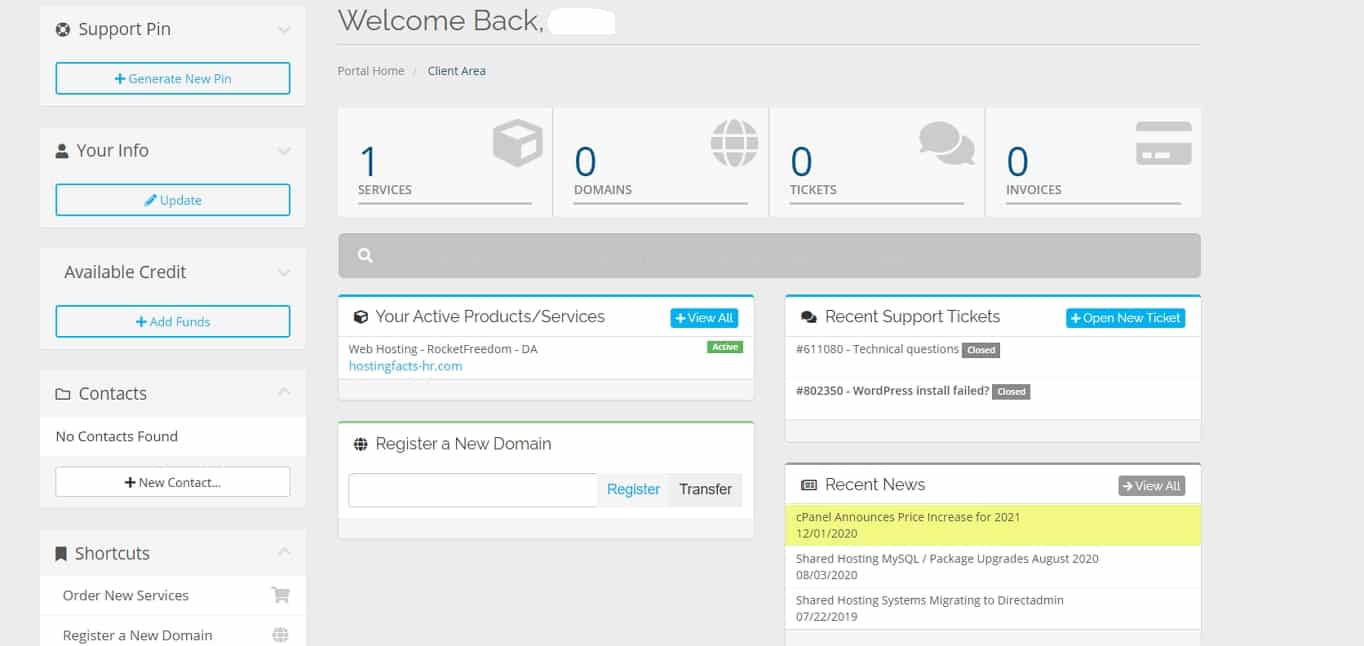 HostRocket uses cPanel as their control panel. You can access it from the client area.
There's a good reason why cPanel is the most popular control panel in the hosting industry. It's very smooth to use and extremely beginner-friendly. From there you can access your email accounts, file manager, databases, and everything else related to hosting.
8. RVSiteBuilder Included in Shared Hosting Plans
HostRocket comes with an RVSiteBuilder that is included in shared hosting plans.
RVSiteBuilder is packed with many pre-designed templates that will help you build a site more comfortably and faster.
Overall, it's nice to see that HostRocket offers an all-in-one service.
Cons of Using HostRocket Hosting
---
Despite HostRockets' good initial start, they faded fast down the stretch. Unfortunately, they hit a few stumbling blocks along the way.
Let's have a closer look.
1. Relatively Expensive Hosting
HostRocket's cheapest plan starts at a stiff $5.99 per month.
That's already on the expensive end (especially considering their performance so far).
It gets even worse because you have to sign up for two years and pay upfront to enjoy that (already) inflated rate.
Want to sign up for a shorter term?
In this case, be ready to pay even more. For example, signing up with their annual plan, the price is going to be $7.99/month. If you want to sign up for six months or for a month, then it would cost you $8.99 per month and $11.98 per month, respectively.
2. Still Charge a 'Setup Fee' ($29.99!)
Most web hosting companies will happily get your site up and running for free. They'll help migrate an existing site over or even throw in a free domain name for a year.
HostRocket, unfortunately, is one of the rare few to still charge a 'setup fee' of $29.99 if you decide to pay monthly or semi-annually.
3. Expensive Domain Name Registration and Transfer ($20!)
HostRocket doesn't offer a free domain name.
Instead, you'd have to pay $20 a year if you want to register one or transfer it to HostRocket.
Sure, there are also other hosts who don't include a domain name with their cheapest plans, but at least it would cost you less money (half the price HostRocket is offering).
Nickle and diming at its finest.
4. Lack of Datacenters
HostRocket only has data centers available in the US – in New York and Chicago. If you're from the US and live nearby those cities, then it shouldn't be a problem for you. However, if you're not living in the states then HostRocket might not be suitable for you.
Why?
Because server location and your site's speed and uptime are connected. The rule of thumb is to choose a data center closest to your physical location. The closer the server, the better the loading times and uptime (usually).
So, for example, if you're living in Amsterdam and you're hosting with HostRocket your site's performance might not be as good as for someone who lives in Chicago and also hosts with HostRocket.
HostRocket Pricing, Hosting Plans & Quick Facts
Shared Hosting: Here's a quick overview of their shared hosting plans:
---
| | Shared Web Hosting Plan |
| --- | --- |
| Pricing | $5.99/month |
| Websites | Unlimited |
| Bandwidth | Unmetered |
| Storage | Unmetered |
| Email Accounts | Unlimited |
Please note that this pricing is for their two-year plans. If you want to commit with them for a shorter time, you'd also have to pay more. For example, their annual plan starts from $7.99/month, and the monthly plan is $11.98/month.
Quick Facts
Free domain? No. Registration costs $20 a year.
Ease of Signup: Lengthy checkout process. This can be improved.
Payment Methods: Credit Card.
Hidden Fees and Clauses: Shared hosting accounts cannot use more than 15 % total bandwidth, 10% RAM, 10 percent of the total number of active connections, and 15% total disk space of a server.
Upsells: A few upsells.
Account Activation: Instant Activation.
Control Panel and Dashboard Experience: cPanel.
Installation of Apps and CMSs (WordPress, Joomla, etc.): They offer Easy Installs to help you install your favorite apps and CMSs in a few clicks.
Do We Recommend HostRocket?
Yes and no.
They are somewhat average.
When you compare their performance with their hard costs, here's what you get:
Their support is good, but not that good (we wish they had a live chat option).
Their speed is okay, but a bit too average.
On the bright side, they have improved their uptime a lot.
Overall, HostRocket's "value" is too average compared with the high cost and additional setup fee. You'd be better off using some other host instead.
---
---
Have you used HostRocket? Let us know about your experience (good or bad), we'd love to share honest and transparent reviews with our visitors.