Hostwinds was founded in 2010 and is a US-based online hosting provider offering an all-in-one experience to customers.
Hostwinds not only provides a hosting service but also includes access to the Weebly website builder and unlimited email accounts.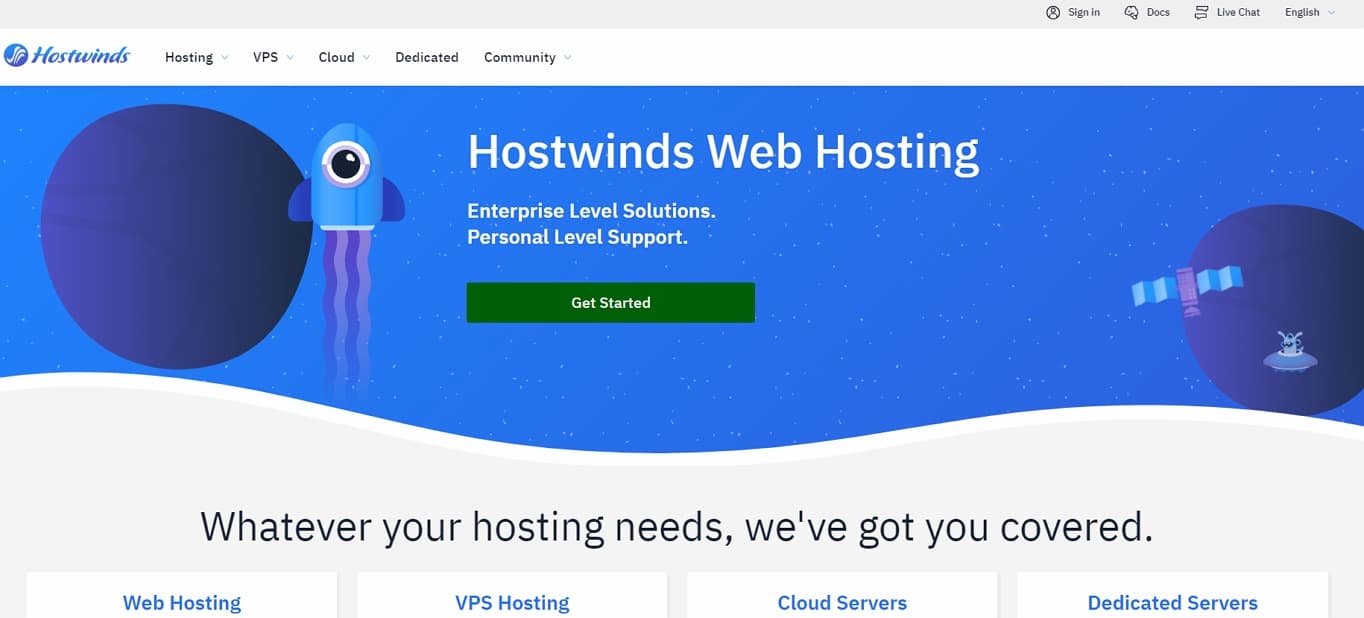 But how does Hostwinds measure up to the top web hosting services we've reviewed?
We examined every facet of the shared hosting services offered by Hostwinds to determine if they're as good as they boast and if they're the right choice for you.
So let's find out how what their pros and cons are.
General Info & Hosting Overview
---
Our Rating:

Our Verdict: 3.5

SPEED:
582 ms (March 2022 to August 2022)
UPTIME:

99.92%

(March 2022 to August 2022)
SUPPORT:
24/7 Live Chat, Phone, Email, Ticketing, Knowledge Base
APPS:
WordPress, Joomla, Weebly, Drupal, etc.
FEATURES:
Enhanced Speed, SSL Security, Unlimited Space/Bandwidth, Free Email Accounts, Dedicated IP Address, Nightly Backups, and more.
HOSTING PLANS:
Shared, Business, Reseller, White Label, VPS, Cloud, Dedicated
SITE TRANSFER:
Free for 60 days after a purchase
PRICING:
Starting at $5.24/month (Renews at $6.99/mo)
---
Pros of Using Hostwinds Hosting
---
Hostwinds started out strong, providing a good speed, responsive customer services, and many handy features.
Let's have a closer look.
1. Free Migration
Free migration of an existing site to the new host is a key feature we look for in a web hosting service. That's something that Hostwinds offers free for 60 days.
Of course, if you don't use it by then, the offer is taken off the table. But who waits more than two months to transfer their site to their new host? We think 60 days is a reasonable timeframe you shouldn't have a hard time meeting.
You can start your site migration after purchasing the hosting plan of your choice.
Migration is handled entirely by Hostwinds techs. Starting the process can be done in just a few steps:
Contact the Hostwinds technical department and open a new ticket.
The Hostwinds technicians will start working on it.
As the process continues, the technical team will communicate with you if any issues arise.
Once complete, your site will be fully migrated to the new hosting platform.
2. Responsive Customer Service
Hostwinds boasts about its impressive customer service and states that this is something that sets them apart from other competitors. Not to mention that they have won several awards for their excellent customer service.
Of course, we wanted to test that.  Especially the live chat, since 92% of customers feel satisfied when they use the live chat while dealing with businesses – more than any other communication option
We're glad to say that Hostwinds has a responsive and helpful live chat support department that addresses the needs of both prospective and existing users quickly.
When we asked our initial question, it took the support team two minutes to respond. That's not bad at all. It was the perfect timeframe for them to receive the inquiry, find the correct answer, and then reply.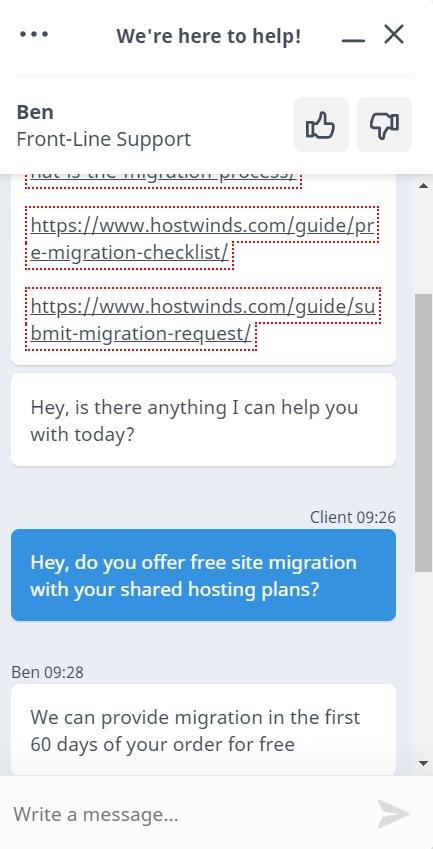 They were quick, gave us complete answers, and provided links to help with further information.
All in all, the live chat representative was extremely responsive, knowledgeable, and polite.
Hostwinds also has a phone option, a knowledge base, and a ticketing system where you can submit an issue that the support team will tackle on your behalf.
3. Free SSL Certificate
Your business website needs security. This is particularly true if you have any kind of eCommerce component on your site. If customers can't trust your site's security, they're not going to do business with you.
Thankfully, Hostwinds provides SSL certificates for free with all three of their shared hosting plans.
One significant benefit of an SSL certificate is that it makes your URL HTTPS instead of the standard HTTP.
Why does that matter?
Google marks HTTP sites as unsecured, which will drive potential customers away from your site in droves. If Google is flagging your website and calling it unsafe, no one is going to trust you with their personal information.
4. Free Unlimited Email Accounts
All of Hostwinds' shared hosting plans come with free unlimited email accounts.
Typically, with other hosts, lower-tiered plans might not include that bonus, and the email account number would be limited based on the level you chose.
However, Hostwinds steps up and helps establish a professional aura around your company with branded email addresses.
5. Access to Weebly Website Builder
By giving you access to Weebly's website builder, Hostwinds makes itself an all-in-one service.
By that, we mean you can make your website, host it, and acquire your domain all in one place. You don't have to skip around and have three or four different accounts with various providers.
Also, Weebly is one of the best website builders that we've reviewed. So, that's another bonus!
6. Unlimited Disk Space with All Plans
Another thing that we love about Hostwinds is that it has no limitations on disk space. All of the shared hosting plans come with unlimited storage.
It would be easy to create elite tiers that feature unlimited storage, forcing customers to pay more if they want to have a more extensive website. However, with Hostwinds, you can make your site as big or as small as you see fit.
7. Easy to Use Dashboard and Control Panel
Hostwinds dashboard is intuitive and modern-looking. It's easy to navigate there and you can access your domains, services, billing, and more from there.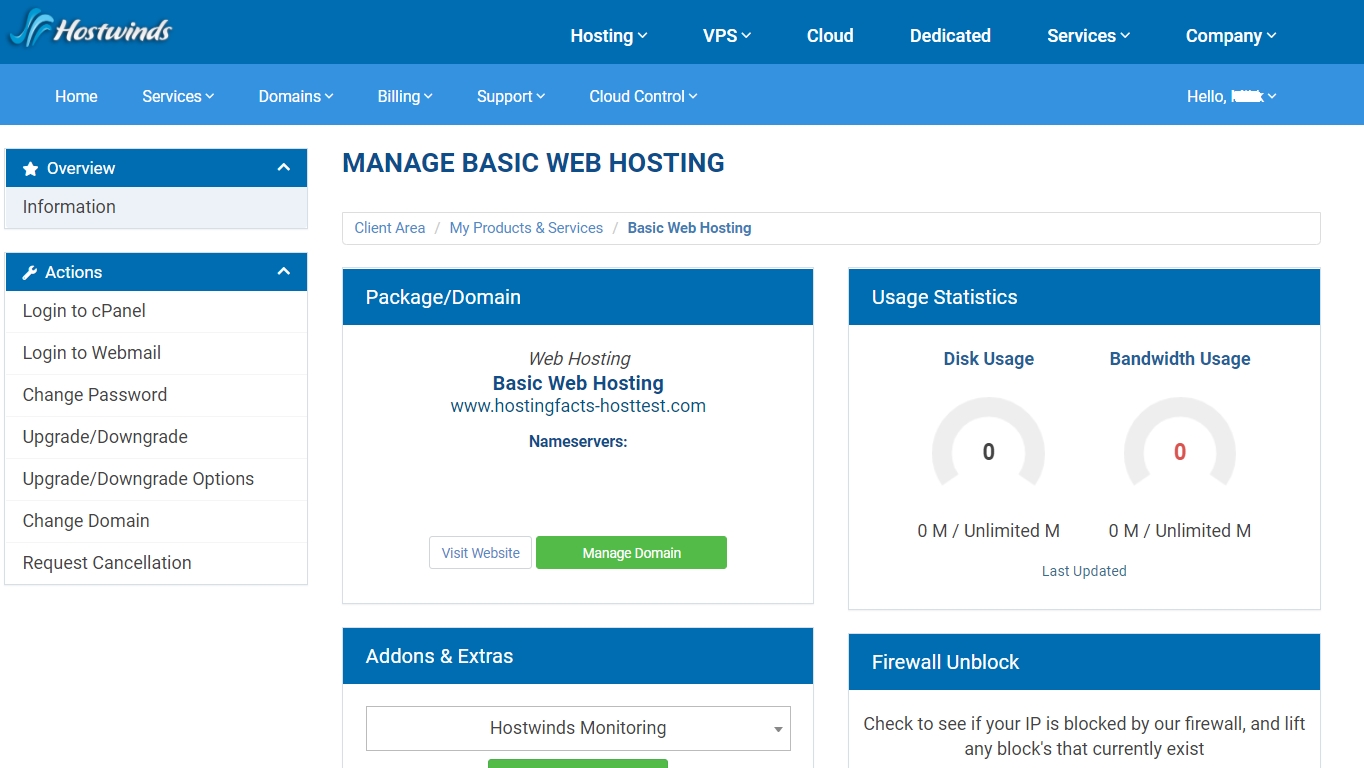 Hostwinds uses cPanel as a control panel and you can access it from the client area under the "Actions" tab.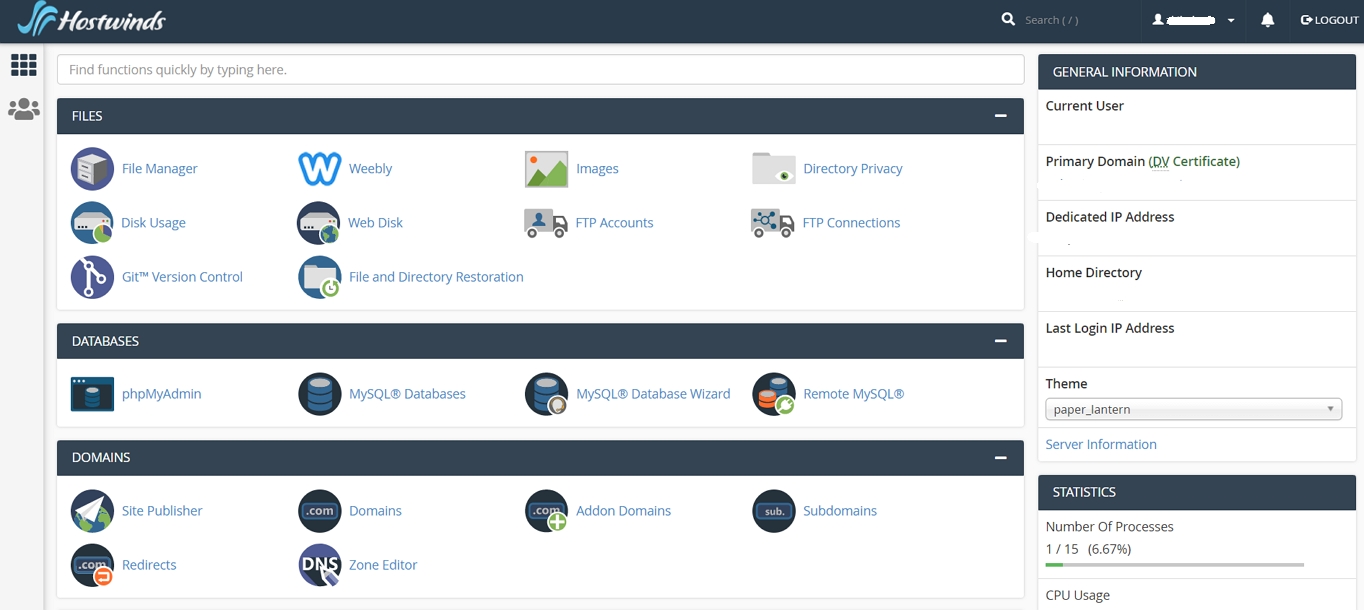 Even though cPanel might seem a bit cluttered at first glance, there's a search bar included at the top of the page that makes things easier for you. So, if you're looking for information on your bandwidth, you only need to start typing the word "bandwidth" into the bar, and the icon will be pulled up automatically.
8. Solid Speed 582 ms
Hostwinds claims that its service was initially developed with speed in mind.
To that end, it uses SSD Drives (Solid State Drives) to increase the speed and proficiency of sites running on its hosting service.
Hostwinds guarantees rapid read and write speeds and utilizes a Route Optimized Network to ensure that the fastest route to connection is always taken.
Needless to say, we had great expectations for the outcome.
Over the past six months, Hostwinds delivered an average speed of 582 ms. Not the fastest we've seen but still above the industry-standard 850 ms.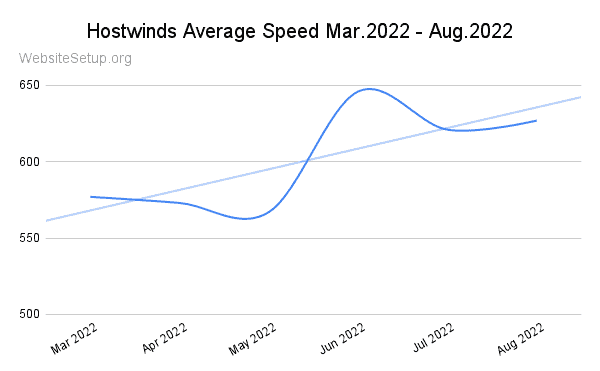 There are a lot of reasons why fast page speed is important. For example, 14% of your website's visitors will leave if your page loads are slow and start shopping at another site and 1 out of 2 people expect a site to load in under 2 seconds.
9. Improved Uptime 99.92%
Hostwinds guarantees a 99.9999% uptime. This means that the network Hostwind uses and the power for it would be up with no downtime exceeding 31.6 seconds in a year.
That's supremely impressive, but we also like to try these services out for ourselves and test that these claims are accurate. We do this by creating a test site on the hosting platform and measuring the recorded uptime over an extended period of time.
Our testing has shown solid results – an average of 99.92% uptime with almost three and a half hours of downtime over the past half a year.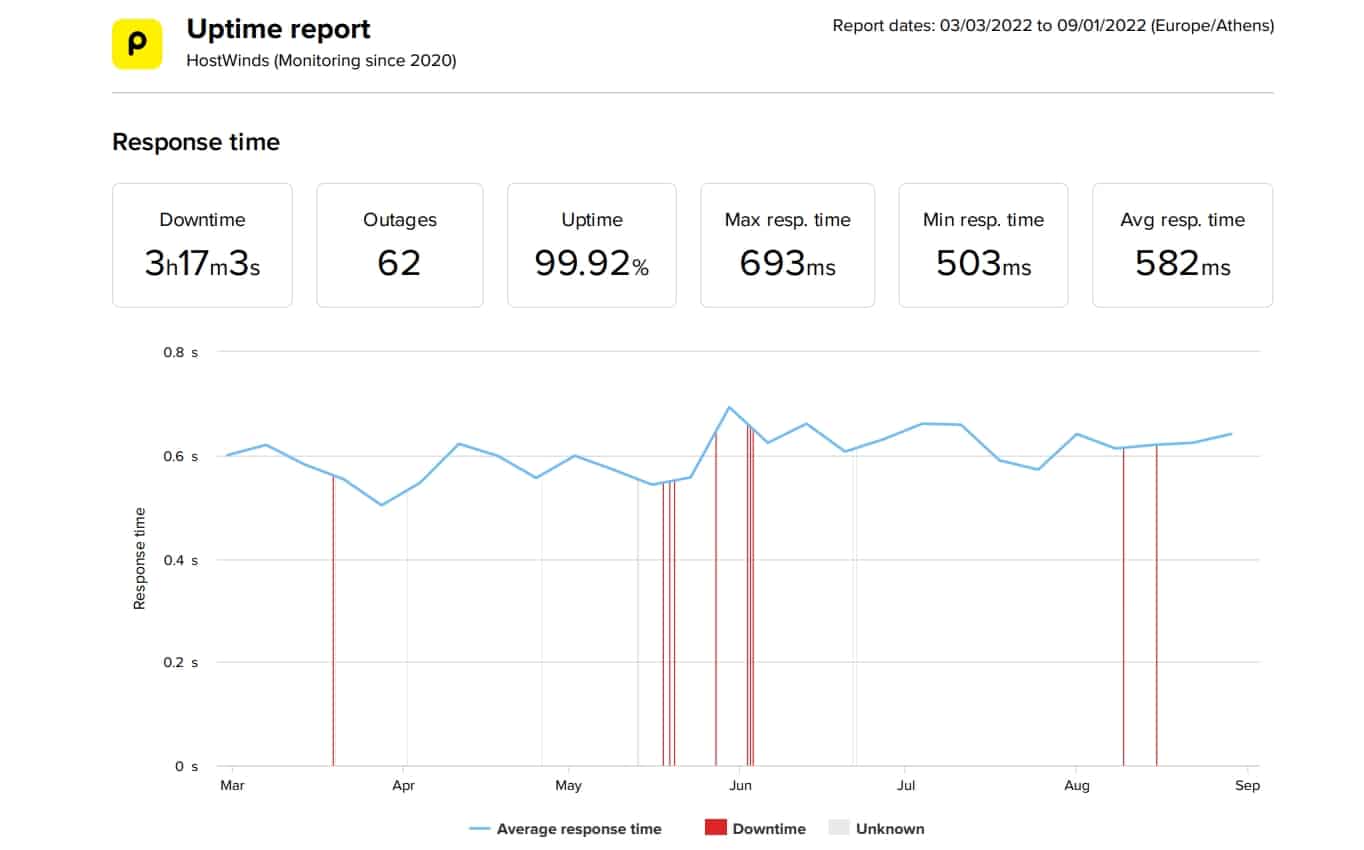 Here's the last 6-month average uptime:
August 2022: 99.99%
July 2022: 100%
June 2022: 99.58%
May 2022: 99.96%
April 2022: 100%
March 2022: 99.98%
Cons of Using Hostwinds Hosting
---
Now let's have a look at Hostwind's drawbacks.
1. Limited Server Locations
One of the issues that we had with Hostwinds was the lack of server locations. In fact, there are only three Hostwinds data centers, two are located in the United States, and one is in Amsterdam. Compared to, for example, Liquid Web, which has 20+ global data centers, that is not a lot.

That potentially means that sites will respond slower to users outside the US and Europe.
We hope that Hostwinds will expand its operations in the future and will add more data centers to other continents too.
2. Domain Name Is Not Free
A free domain name is something a lot of hosts offer. At least for the 1st year.
That's not the case with Hostwinds. A domain name is not included in any of their shared hosting plans and it would have to be purchased separately from them or elsewhere.
For example, the .com domain would cost you $14.84/year.
3. Prorated Money-Back Guarantee
Hostwinds offers a money-back guarantee on its hosting plans, which is great in theory. Unfortunately, the amount that you receive back is prorated.
That means if you paid for one month and decided to cancel after a week, you'd be repaid ¾ of the monthly fee. Meaning, they're still charging you for the time that you used.
The point of a money-back guarantee is that you're trying the service out with no risk involved. If they're still going to charge you for the time that you used the platform, there is still some hazard in sampling the product.
Hostwinds Cost, Plans, Payment Methods & Quick Facts
Hostwinds has three Shared Web Hosting plans:
---
Basic Plan
Advanced Plan
Ultimate Plan
Pricing
$5.24/month
Renews at $6.99/mo
$6.74/month
Renews at $8.99/mo
$8.24/month
Renews at $10.99/mo
Websites
1
4
Unlimited
Bandwidth
Unmetered
Unmetered
Unmetered
Storage
Unmetered
Unmetered
Unmetered
Email Accounts
Unlimited
Unlimited
Unlimited
---
Quick Facts
Domain: No.
Ease of Signup: Easy and straightforward.
Money-Back: Pro-rated money-back guarantee.
Payment Methods: Credit/Debit cards, PayPal, Bitcoin.
Hidden Fees and Clauses: No hidden fees and clauses.
Upsells: No upsells.
Account Activation: Instant Activation.
Control Panel and Dashboard: Easy-to-Use cPanel.
Installation of Apps and CMSs (WordPress, Joomla, etc.): Softaculous Auto Installer with hundreds of most popular apps available.
Other Features: Dedicated IP, nightly backups, Weebly site builder, free website transfers, and more.
Do We Recommend Hostwinds?
Yes.
Hostwinds has a lot to offer.  You get free SSL security, excellent customer support, and unlimited email accounts. All this is on top of an unlimited all-in-one experience with access to a great website builder and unlimited space and bandwidth.
Moreover, they have improved their average speed and uptime over the last six months.
We're not overly concerned about their lack of server locations and not-free domain names — these are small issues in the grand scheme of things.
---
---
Have you used Hostwinds before? Please consider leaving a review below — good or bad — doesn't really matter as long it's helpful to our visitors.