WestHost was founded in 1998 by Chis Russell, they merged with UK2 Group in 2008. WestHost is one of the oldest web hosts out there. It's also worth mentioning that UK2 Group owns MidPhase hosting.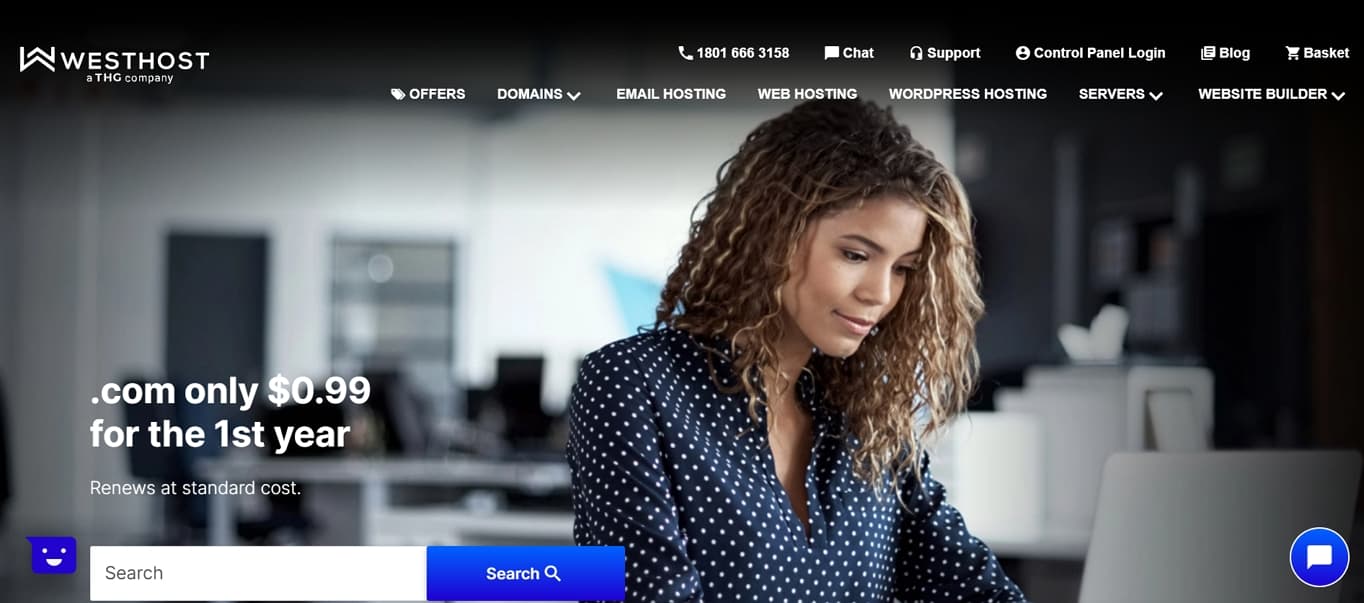 They claim to offer reliable web hosting that is affordable. We carefully investigated them by using their service and doing a background check to find out what other users think. Our unbiased review lets you know whether WestHost is worth it or not.
In order to make our review accurate, we bought WestHost's "Personal Plan" and set up a basic WordPress website to test their uptime and speed.
Did WestHost perform well enough to get our recommendation?
Read on to find out.
General Info & Hosting Overview
---
| | |
| --- | --- |
| Our Rating: | Our Verdict: 4.0 |
| SPEED: | 678 ms (March 2022 to August 2022) |
| UPTIME: | 99.99% (March 2022 to August 2022) |
| SUPPORT: | 24/7 Live Chat |
| APPS: | WordPress, AbanteCart, Joomla, PrestaShop, Drupal, and more. |
| FEATURES: | Unlimited disk space & 1000 GB bandwidth, Full DNS Management, One MySQL Database, FTP and SSH Access, 30-Day Money-Back Guarantee, and more. |
| HOSTING PLANS: | Shared, WordPress, VPS, and Dedicated Servers |
| SITE TRANSFER: | Not Available (Only manual, do-it-yourself option available) |
| PRICING: | Starting at $1.00/mo (renews at $5.00/mo, annual term) |
---
Pros of Using WestHost Hosting
---
WestHost has quite many perks going on for them.
Let's take a closer look.
1. A Free Domain Name
You heard it right. If you stick with WestHost you'll get a free domain name for the 1st year.
However, this perk comes only with Preferred and Business level plans. For the cheapest shared plan, you'd have to pay an extra fee depending on the domain. For example, the .com domain would cost you $0.99 for the 1st year and renew later to $14.99/year.
2. Solid Uptime 99.99%
Over the past 6 months, WestHost had an average uptime of 99.99% with 14 minutes of downtime.
Overall WestHost has shown great uptime results nearly all year.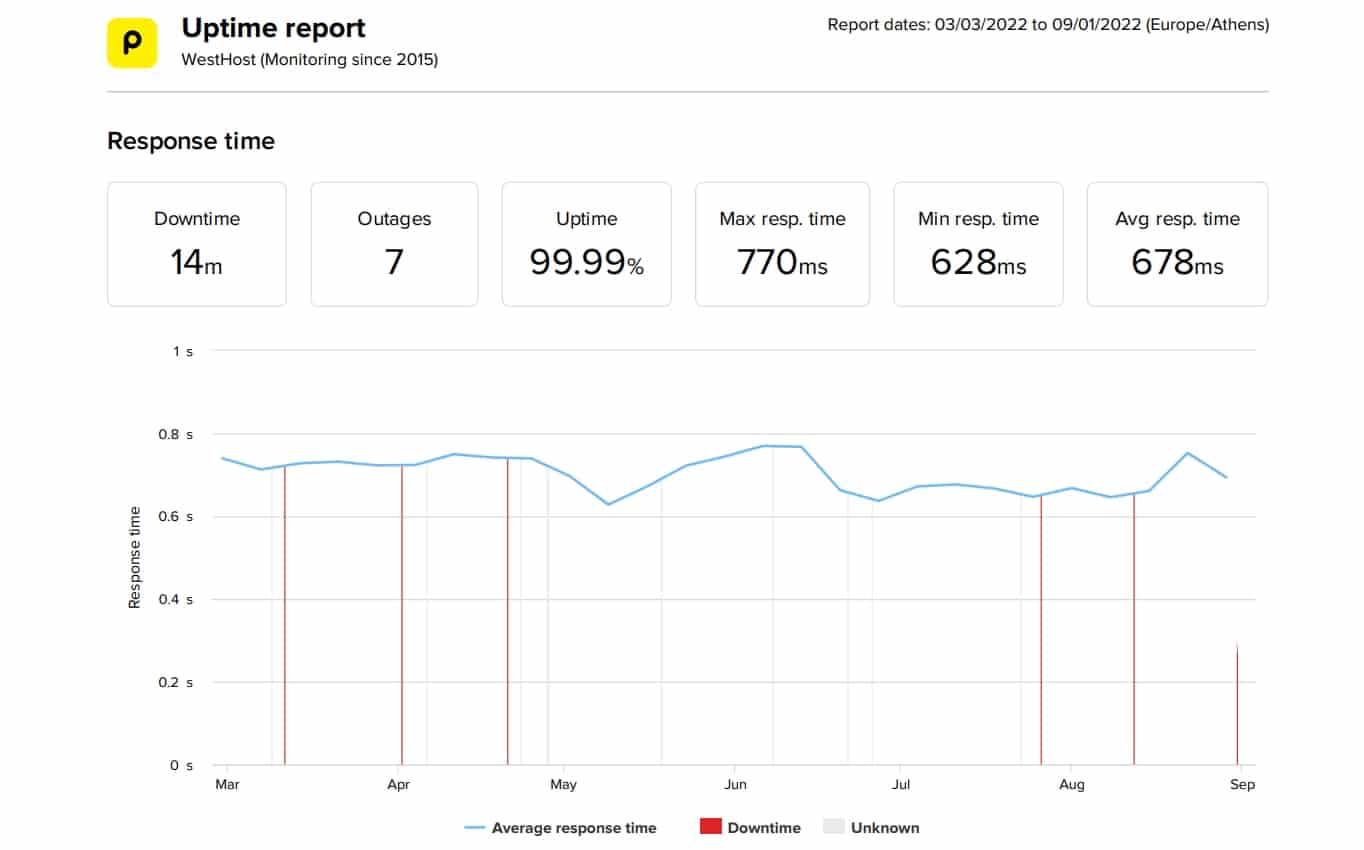 Last 6-month average uptime:
August 2022: 100%
July 2022: 99.98%
June 2022: 100%
May 2022: 100%
April 2022: 99.99%
March 2022: 100%
3. Good Page Load Time
Fast page speed is definitely something you should look for while choosing a host.
We've set a speed benchmark of 850 ms – everything above this mark is not satisfactory and everything below is thumbs up from us.
Our test revealed WestHost's average page load time to be 678 ms over the past 6 months, which is not the best we've seen but still good enough to earn a place in our pros section.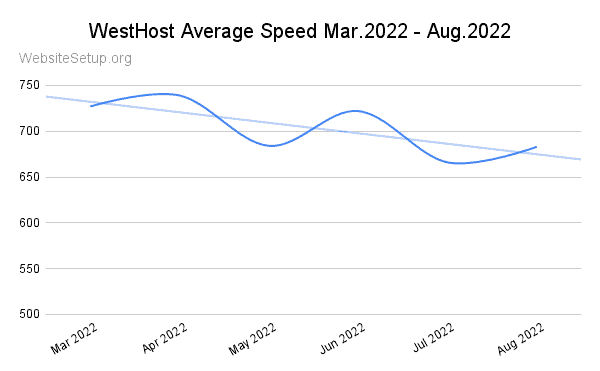 Also, the good news is that WestHost has been having faster loading times throughout the year.
4. 30-Day Money-Back Guarantee
WestHost offers a full refund backed by their 30-day money-back policy. If for any reason you decide that their service is not for you within 30 days of registration, they will refund you in full.
This, however, only applies to their shared hosting plans.
5. Instant Activation
Unlike most web hosts, you don't have to wait for hours or days for your account to be activated. With WestHost, your account will be activated instantly.
6. Enhanced Security with Nightly Backups
With regular nightly backups for most of their web hosting plans, support for Cloudflare CDN, and Automatic Malware Removal for their plans, WestHost seems to be a very secure host.
7. Responsive but Slightly Limited Customer Support
Similar to MidPhase, WestHost offers several support options: ticketing, email, and also live chat. But live chat is available only for registered users. If you don't have an account with them and you wish to ask pre-sales questions, then you'd have to send them an email.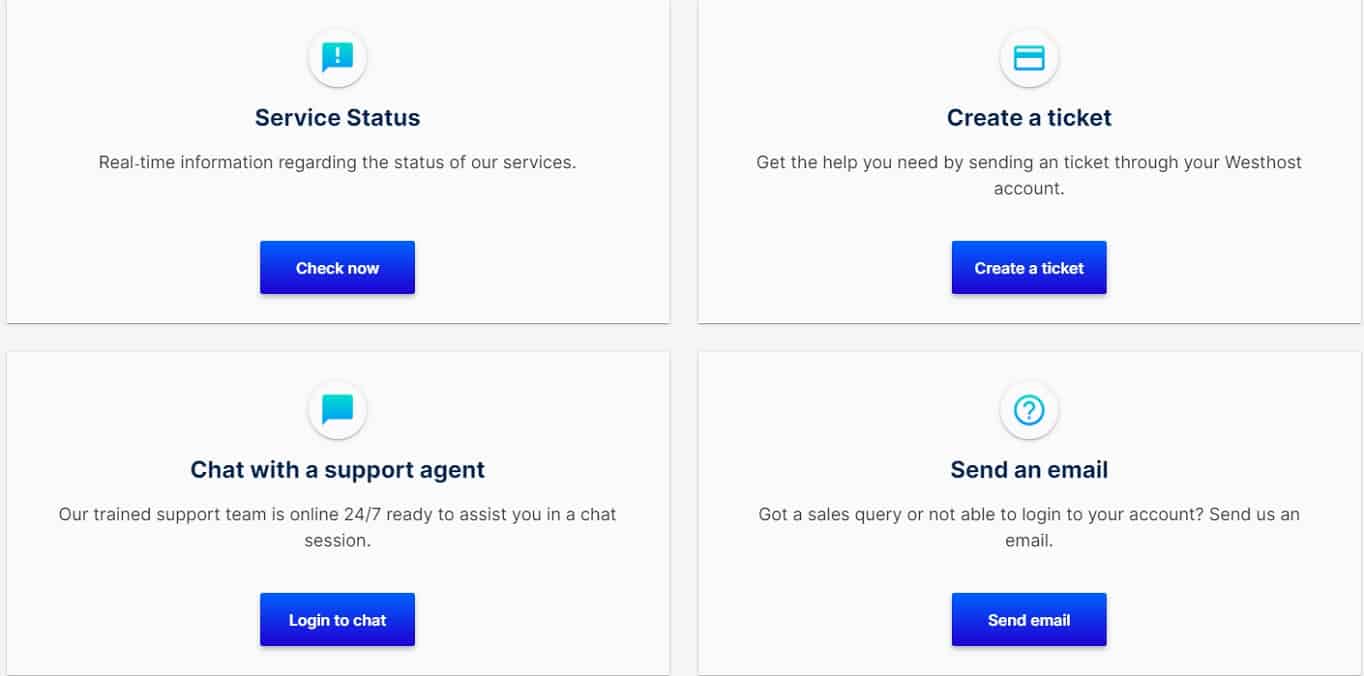 We logged in to our client area and asked a simple question about the cPanel. After some time of waiting (there was a queue), we were connected to the customer support rep who answered all our queries.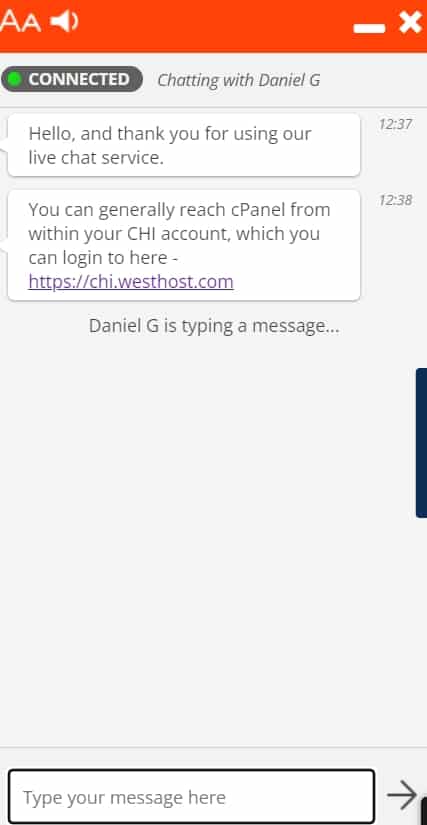 Cons of Using WestHost Hosting
---
Unfortunately, WestHost had also some drawbacks.
Let's see these in detail.
1. Not "Truly" Unlimited
While some WestHost shared hosting plans promise unlimited files, bandwidth, and databases, it is important to note that their fine print says otherwise. Here's what we found from their Terms and Conditions page:
Their unlimited shared hosting is designed to meet the needs of most small businesses and personal websites; it is not designed to meet the needs of large businesses or client services that fall outside the average usage pattern for shared hosting and may be better suited for hosting plans that provide expanded features.
Accounts with a large number of files (inode counts in excess of 200,000), databases exceeding 5 GB in size, or a cumulative size of all databases in excess of 10 GB can have a significant impact on server performance.
They reserve the right to request that the number of inodes (files and directories) and/or database sizes be reduced to help ensure server performance. Failure to comply with these requests may result in the termination of your account.
Essentially, even though they promised unlimited hosting, your account should generally not have databases that exceed a cumulative 10 GB. If they deem your files too many and your databases too big, they can request that you reduce your files or upgrade to a better plan. Failure to do this can lead to your account being terminated.
We're not happy that they hid what their "unlimited" hosting really allows on their Terms and Conditions page.
With that said, we believe that there's nothing called "unlimited hosting" and that WestHost is generous enough for the prices they offer.
2. Intro Pricing Period Too Short
All web hosts will reel you in with an incredibly low starting price. It often looks too good to be true because it is: after your first term, the price jumps back up to normal levels (often two or three times the initial rate).
The silver lining is that most hosts will allow you to lock in that low rate for up to three years. So you're saving a ton of money over that time period.
The problem with WestHost is that while they do have a really affordable rate initially ($1.00/mo), you can only purchase it for the first month. After that, the price jumps to $5/mo.

3. Site Migrations are Not Offered
Last but not least, WestHost does not offer site migrations from their end (both free and paid are not included).
What does that mean to you?
If you already have an existing website and you wish to transfer it to WestHost then you'll have to do it manually yourself. Of course, if you're tech-savvy and site migrations are not your first rodeo, then it's probably nothing really complicated for you. However, if you're a noob in the hosting world, it might be tricky and time-consuming.
On a positive note, WestHost's support team is available for help in that matter.
WestHost Pricing, Hosting Plans & Quick Facts
Here's a quick overview of the various hosting plans offered by WestHost:
---
Personal Hosting Plan
Preferred Hosting Plan
Business Hosting Plan
Pricing
$1.00/month
Renews at $5.00/mo
$1.00/month
Renews at $7.00/mo
$1.00/month
Renews at $9.00/mo
Websites
10
Unlimited
Unlimited
Bandwidth
1000 GB
2500 GB
Unmetered
Storage
Unlimited
Unlimited
Unmetered
Email Accounts
Unlimited 10 GB Emails
Unlimited 10 GB Emails
Unlimited 10 GB Emails
Other Features
• Free Domain
• Free Domain
• Free Domain
• Free SSL Security
• Free Dedicated IP
---
Quick Facts
Free Domain: Yes (except for monthly renewal packages)
Ease of Signup: Quick signup process.
Money-Back: 30-day money-back guarantee.
Payment Methods: Credit Card, Paypal.
Hidden Fees and Clauses: Shared hosting accounts must not exceed 200,000 inodes or 10GB total database size. Quite many features (SSL Certificate, domain name) would have to be purchased for an extra cost.
Upsells: No upsells.
Account Activation: Instant Activation.
Control Panel and Dashboard Experience: cPanel.
Installation of Apps and CMSs (WordPress, Joomla, etc.): The plans come WordPress and Drupal ready.
Do We Recommend WestHost?
Yes and no.
In general, WestHost is not a bad hosting company.
However, they have an average uptime, average page loading speeds, and also average support.
If you like their initial cheap pricing, you should give them a shot. Otherwise, keep looking for better options.
---
If you've used WestHost, please leave a review below. Good or bad – doesn't really matter as we're trying to keep our reviews transparent and honest.