The hosting market has grown to huge proportions over the course of the last 25 years since we first had a need for hosting. It's an industry that didn't even exist before the invention of the Internet.
By now, it's one of the backbones of modern society and the economy.
To give you a better idea about the size and shape of this sector, we have compiled some representative web hosting statistics. These will better explain the dimensions of the web hosting market, who the big players are, and where they are located.
As well as the size of the domain market, what technologies people use to power their websites, and future predictions about web hosting. Knowing all this can also be helpful when picking a web host.
Web Hosting History
Before we get into the current web hosting statistics, we thought it would be fun to take a quick trip down memory lane and have a look at how we got to where we are today.
Even though the Internet has been with us for quite a while, it's actually not that old. Especially compared to other technology that we use every day.
So, in order to better understand what got us to this point, here are some of the key steps that resulted in the World Wide Web as it is today.
A Short History of the Internet
1969: ARPANET, the first computer network is developed. It connects computers at the University of California and Stanford University. More connections follow before the end of the year.
1971: Email technology becomes available.
1973: The first transatlantic connection of ARPANET is established at the University College of London.
1976: Development of the TCP/IP protocol, enabling different types of networks to communicate with each other.
1978: Creation of the first international network. By 1981, it connects Europe, the US, Canada, Hong Kong, and Australia.
1984: Introduction of the domain name system with six available domain endings (.edu, .gov, .mil, .com, .net, .org).
1987: The Internet contains nearly 30,000 hosts.
1989: Formation of the first Internet Service Providers and the first commercial dial-up service. AOL launches its instant messenger.
1991: Creation of the World Wide Web and the first web browser by Tim Berners-Lee, enabling users to access hypertext documents from anywhere on the network.
1993: The World Wide Web becomes available to the public domain. Marc Andreessen develops the Netscape browser, which comes out as Netscape Navigator the next year.
1995: Restrictions on carrying commercial traffic on the World Wide Web are abolished. eBay and Amazon see their first sales. The web hosting service Geocities launches.
1997: Launch of the company that would become GoDaddy. The term "weblog", which would later be shortened to "blog", is coined.
1998: Google goes live and 20% of Americans get news from the Internet at least once a week.
2002: Brent Oxley launches HostGator from his university dorm room. Around 55 million people go online from their workplace every day.
2003: Launch of WordPress and Skype.
2004: Launch of Amazon Web Services and Facebook. Mozilla comes out with Firefox.
2005: YouTube is founded. The number of broadband connections surpasses dial-up services.
2006: Twitter goes live.
2007: Launch of the iPhone.
2008: Introduction of HTML5.
2010: There are 195 million active domains.
2012: E-commerce sales surpass $1 trillion worldwide.
2014: One billion websites are online.
2017: There are more than four billion global Internet users.
2019: People worldwide spend more time on the Internet than watching TV.
All caught up? Cool, then let's get to the important part.
Web Hosting Industry Statistics 2021
By now, web hosting is a multi-billion dollar industry that's growing every year. In the first part of our web hosting statistics, we will have a look at how big the industry really is and who the main players driving the sector are.
Market Size and Growth Trends
In 2018, the global web hosting market was worth $90.6 billion. It's expected to grow to over $216 billion by 2025. That's a growth rate of around 15%, which is pretty impressive.
Cloud computing is the fastest-growing tech and predicted to have an annual growth rate of 18.3% by 2025. In contrast to that, shared hosting is said to grow at 10.3% per year, and dedicated hosting with 5.6%.
Here's the share that different types of hosting had in 2018:
Shared: 31.7%
Dedicated: 27.9%
Collocated: 27.9%
VPS: 10.3%
Reseller: 13.6%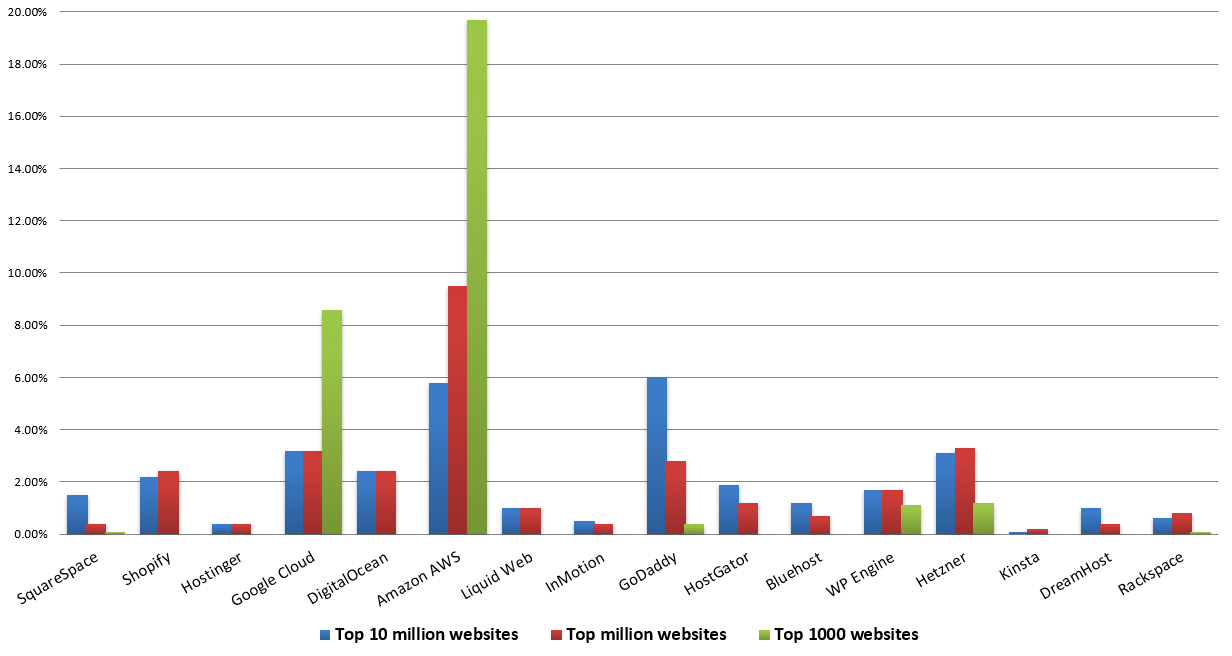 What's interesting is that the make-up of hosting changes depending on the popularity of a website. While shared hosting is overall the most popular solution (likely due to being relatively cheap hosting), cloud providers are a lot more prevalent among higher traffic websites.
This makes a lot of sense if you think about it. They deal with a lot more traffic, might see more surges, and need performance on the fly. In addition, the rise of cloud hosting is driven by an increased need for security (DDoS attacks are on the rise) and flexibility as well as reliance on online sales and eCommerce. In addition, the 2020 global pandemic has moved a lot more activity online.
As a consequence of their higher requirements, revenue-wise, enterprise clients were accounted for 90.46% of the web hosting market in 2019.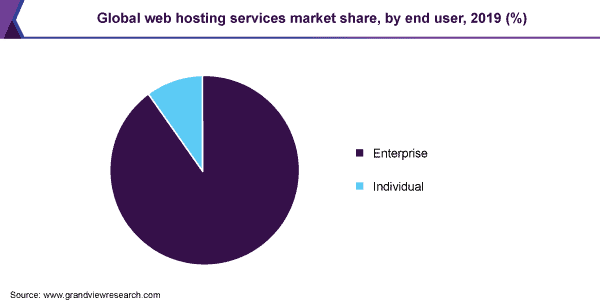 So, in short, while the majority of customers go for more affordable hosting solutions, higher-traffic websites spend a lot more on premium offers.
Market Share of Web Hosting Providers
The global hosting market is increasingly an environment of a few big players. While a large number of hosting providers exist (more than 10,000+ worldwide), many smaller names actually belong to just a few bigger corporations.
A good example of that is the Endurance International Group (EIG), which owns a whole bunch of hosting provider brands including Bluehost, HostGator, and iPage.
The same goes for GoDaddy, who also owns Host Europe, a popular hosting provider in Europe as well as Media Temple.
Also, as we will see below, there is a group of hosting providers that rent resources from other providers like Amazon and Google. Therefore, like in many other industries, in web hosting too, there is a trend towards the consolidation of resources into big companies.
Local Web Hosting Trends
There are also big differences depending on locality. While Cloudflare rules in the US with 5.96%, in Germany it's Strato (29.1%), in the UK 123-Reg (12.05%), while in Italy, Aruba has a whopping 55.49% market share.
However, some markets are also very local. In addition to Italy, in Japan, Switzerland, Norway, Ireland, Malaysia, and the Czech Republic the top hosting companies are all local brands — sometimes by a large margin.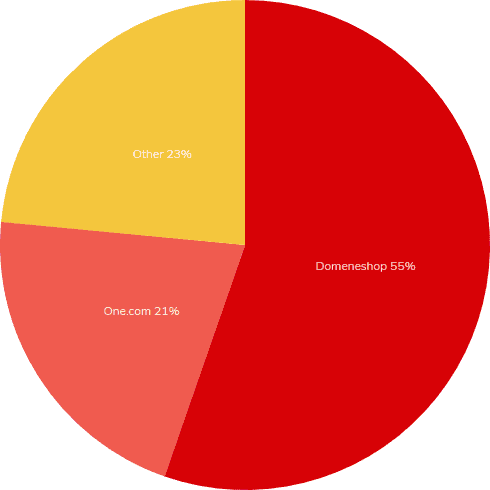 So, what do we learn from this? While big brands dominate globally, in many countries the local hosting industry has a strong foothold on the market. This makes sense because many governments actively invest in local infrastructure for this future industry.
However, as we have also seen, bigger hosting companies are always willing to gobble up smaller competitors to gain access to new markets.
Geographic Distribution of Web Hosts
By now, web hosting is available on all continents except Antarctica. However, looking at the numbers mentioned above, it's no surprise that North America is the home of the most hosting providers. Here are the server locations for all websites that we know the location of:
United States: 39%
Germany: 9.8%
Russia: 7.5%
Netherlands: 6.0%
France: 3.2%
Location of Data Centers
Big names also dominate the data centers' sector. Here's the share of websites that use data centers of these companies:
Google: 7%
Amazon: 6.6%
GoDaddy Group: 5.6%
Endurance Group: 5.2%
OVH: 3.3%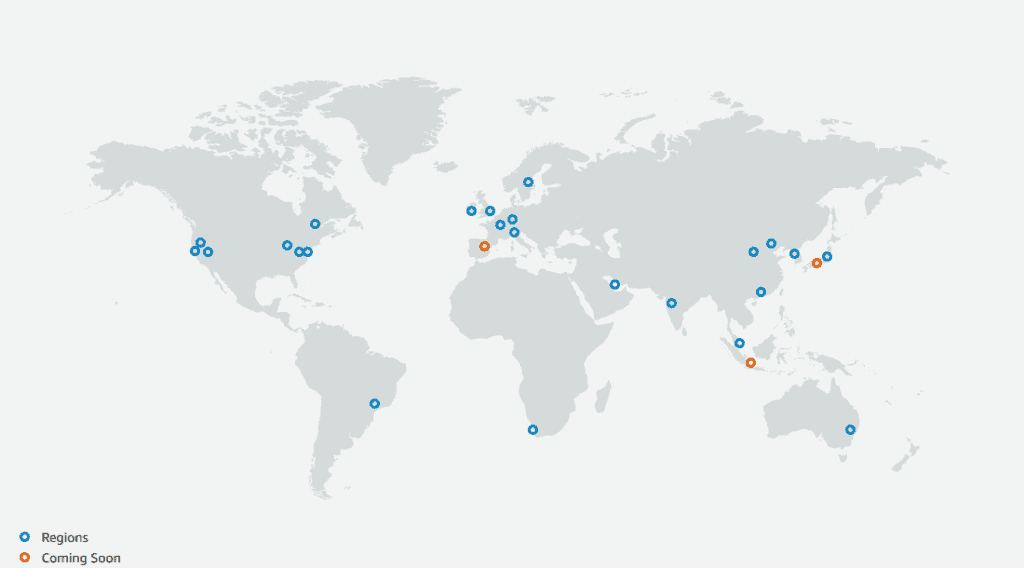 If you want to get an impression of just how much infrastructure is involved in becoming a market leader, here's the network of AWS: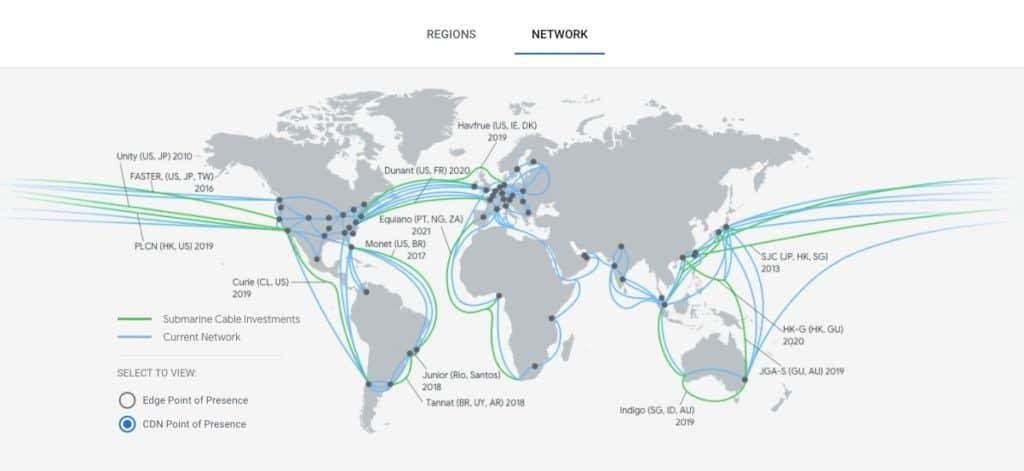 The network for Google Cloud CDN
And here is the same for Google Cloud: Google and Amazon also power a high share of the top websites on the net, especially Amazon.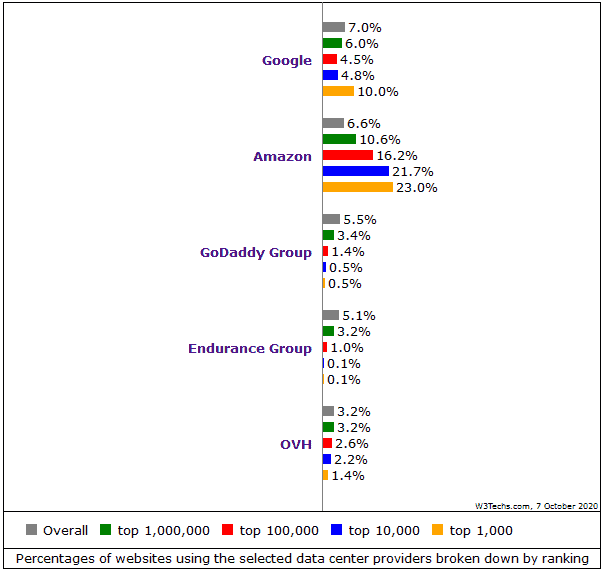 This isn't too surprising as Google and Amazon also function as data center providers for other hosting companies. For example, WP Engine and Kinsta both use Google's servers. Therefore, it's no wonder to see that the trend continues to point upward for these companies.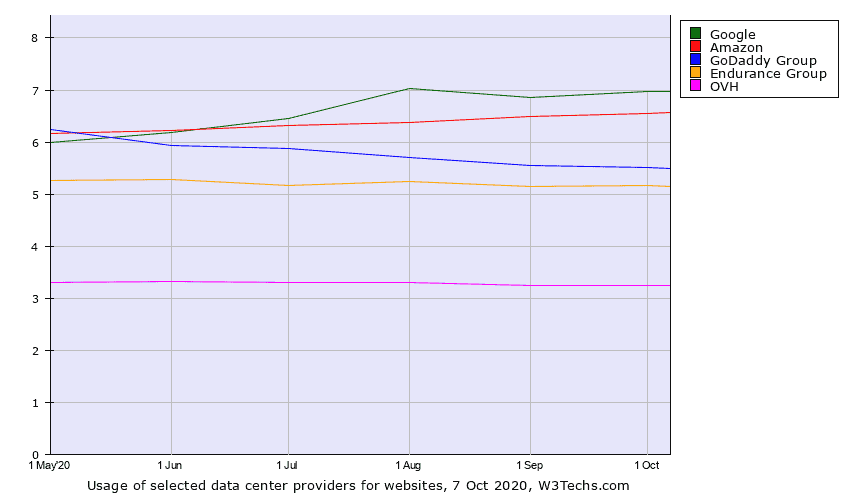 How large are the biggest hosting providers, really? Let's find that out now.
The Largest Web Hosting Companies
To get a better idea of what it means to be among the top web hosting companies in the world, let's have a quick look at the size and revenue of the biggest players today. While, depending on the source, you will find slightly different market shares and rankings, everyone agrees that these are some of the biggest web hosting services.
GoDaddy

Most statistics see GoDaddy as the largest hosting company out there. The company was founded in 1997 as Jomax Technologies and has it headquarter in Arizona, USA.
According to the company page, they serve more than 20 million customers and manage in excess of 80 million domain names. In 2018 they had over 7,000 employees, a number that is likely higher at this point.
BuiltWith declares its overall market share as 23%. As a consequence, it's no surprise that the company reported $2.988 billion in revenue for the year 2019.
Google Cloud Platform

It's a bit tricky to find numbers for this entry since Google Cloud is part of the general Google company. Their market share is set at 4.29% globally.
According to SimilarTech, Google Cloud powers more than 1.4 million websites and has close to 700,000 unique domains under its umbrella. They are mostly focused on the US, where most of their customers run their websites.
Google Cloud's revenue was $2.8 billion in the first quarter of 2020, a whopping 52% increase. Much of that is likely due to the COVID-19 crisis, which is causing more and more companies to invest in digital offerings. Plus, as already mentioned, the service is especially popular with higher-traffic websites.
1&1 Ionos

1&1 is a web hosting company founded in Germany in 1988. It has two headquarters, one in its country of origin, another in Pennsylvania, USA.
Ionos serves 8+ million customers, manages more than 12 million domains, and has 2,000 employees.
Their overall market share is 4.86%. Unfortunately, reliable revenue numbers are hard to come by, however, they seem to be doing well.
AWS

The acronym stands for Amazon Web Services. As is obvious, it's part of the Amazon conglomerate. The web hosting provider has been around in its current form since 2006 when Amazon combined several of its existing services into AWS.
Their share of the global web hosting market is 4.79%. However, they are the market leader in cloud computing with ownership of a full third of the sector and rising. In the second quarter of 2020, their growth rate was 29%, which was actually one of the lowest. At its height, in Q2 2015 AWS was growing at 81%.
The company's revenue in 2019 was $35 billion, a 37% increase. However, it's unclear how much of that came from web hosting. There's also no information on the numbers of employees that we could find.
OVH

A hosting provider from France, founded in Paris in 1999. Globally the company corners 9% of market share. OVH serves 1.5 million global customers, has 28 data centers in eight countries, and more than 2,200 employees. In addition, it is taking care of more than four million domain names.
The company is privately owned so there are no definite numbers on revenue and profits. However, they claimed 500€ million in revenue in 2018.
EIG

Next up is the aforementioned Endurance International Group (EIG). It was founded in 1997 and has its headquarter in Massachusetts, USA.
The company states that it has 3,700+ employees and 4.5+ million customers. However, it is hard to give accurate numbers on its market share because EIG is divided into different brands.
For example, BuiltWith gives the market share of Bluehost and Hostgator as 1.08% and 0.97% respectively. Both companies are subsidiaries of EIG, however, a 2% market share is not that impressive. Yet, W3Techs sees EIG in the second position of all web hosting providers out there. So, it's not entirely clear where its position is but what is apparent is that EIG is one of the largest web hosting companies out there.
This is also reflected in its revenue, which was reported to $1.113 billion in 2019. However, the company also owns other businesses that are not related to web hosting, so its income is not entirely made by hosting websites.
Statistics on Web Technologies
Alright, now that we have dealt with the hardware aspect (what kind of servers we are talking about, where they reside, and who owns them), in the next part of our web hosting statistics, let's talk about what is on them in terms of software.
Server Software Market Share
We will start with the basic technology, the software that turns ordinary computers into, you know, servers. This means enabling other machines (clients) to access the data stored on them. Here, we have the following picture :
Apache: 36.1%
Nginx: 32.5%
Cloudflare Server: 16.1%
Microsoft-IIS: 7.7%
LiteSpeed: 7.3%
Together, Apache and Nginx corner almost 70% of the market. However, the share of Apache is steadily declining while new technologies like Cloudflare are on the rise.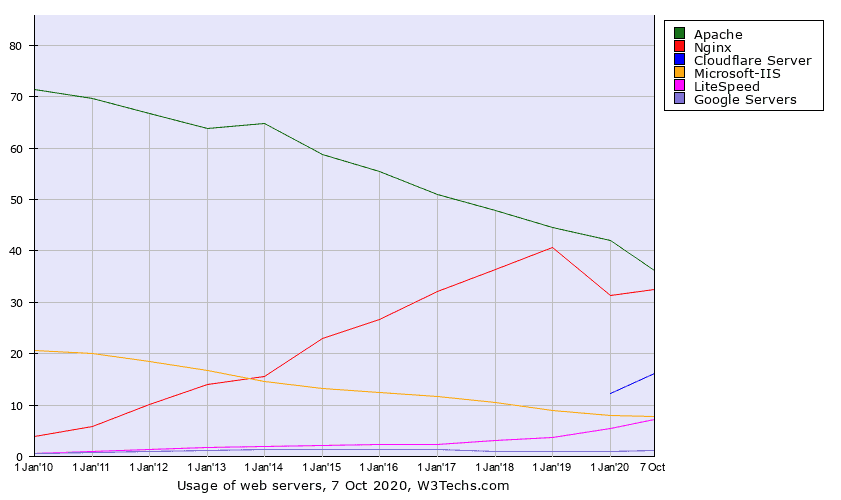 In addition, Nginx and Cloudflare are more popular among top sites on the web.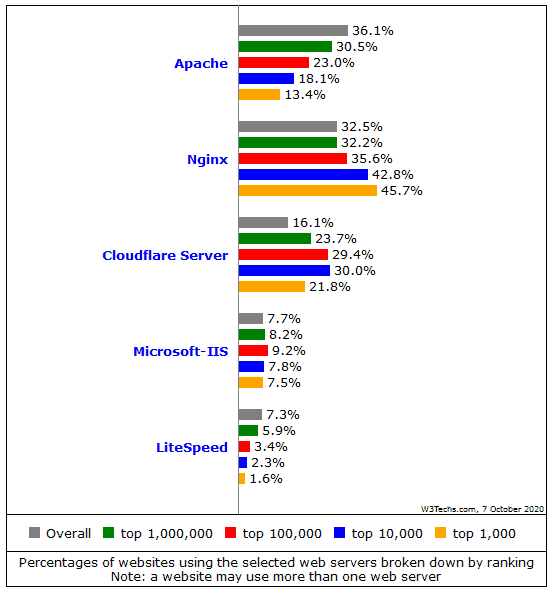 Operating System: Linux vs Windows
Next up, we'll talk about operating systems. These are used to control server hardware and enable different functions like a mail server, application server, etc. Here, the shares are as follows:
Windows: 28.9%
Linux: 29.2%
So, basically the same with a slight edge for Linux (the leftover shares are other Unix-based operating systems). This is pretty amazing when you consider that one of the candidates is a commercial product by a billion-dollar company while the other is an open-source piece of software anyone is free to download and use.
Fun fact: Linux also powers all of the top 500 supercomputers in the world. How's that for a vote of confidence?
Hosting Control Panels
We'll now move on to hosting control panels. These are interfaces that web hosting services use to allow their clients to manage their own servers, e.g. set up mail accounts, FTP access, create databases, etc.
In this area, there are pretty much two candidates to divide the market between themselves: Plesk and cPanel. Although, "dividing the market" may be taking it a bit far as their distribution is very uneven.
According to Datanyze, Plesk is the bull in this area and has a market share of over 74% while cPanel is in second place with a little less than a quarter of the users. Everything else is negligible in terms of percentage.
Market Share of Technologies Powering Websites
As to the question of what is powering the websites lying on these servers, here is the answer:
WordPress: 38.5%
Shopify: 3.0%
Joomla: 2.3%
Drupal: 1.5%
Wix: 1.5%
Squarespace: 1.4%
As you can see, it's a good mix of hosted and self-hosted solutions, especially seeing that Squarespace is in sixth place.
However, it's impossible to overlook in these web hosting statistics is that WordPress clearly dominates. Especially when you take into account that, for a good chunk of websites, we don't even know what powers them.
(Fun fact: there are over 1.8 billion websites but less than 200 million are actually active).
When you only look at websites that use a known CMS, WordPress' share jumps to a whopping 63.6%. The next contender, Shopify, is at a mere 4.8% and WordPress' dominance shows no sign of going away.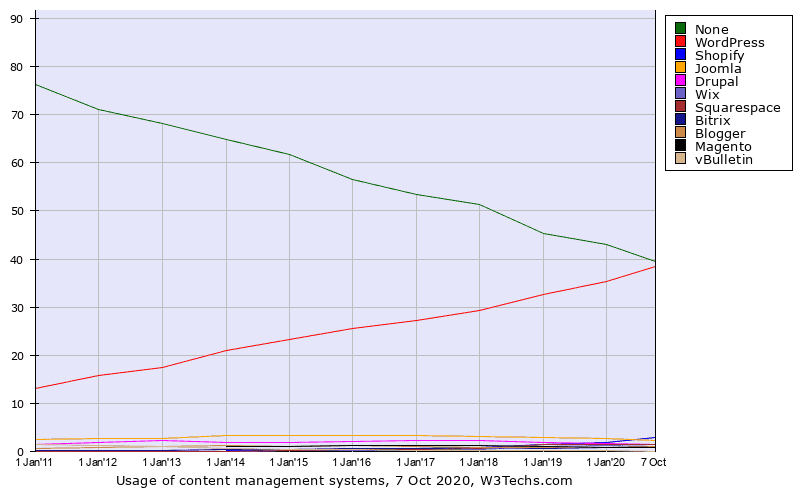 However, when comparing runner-ups to the throne, you can see that Shopify actually exhibits some impressive growth, while almost everyone else's curve is pointing downward.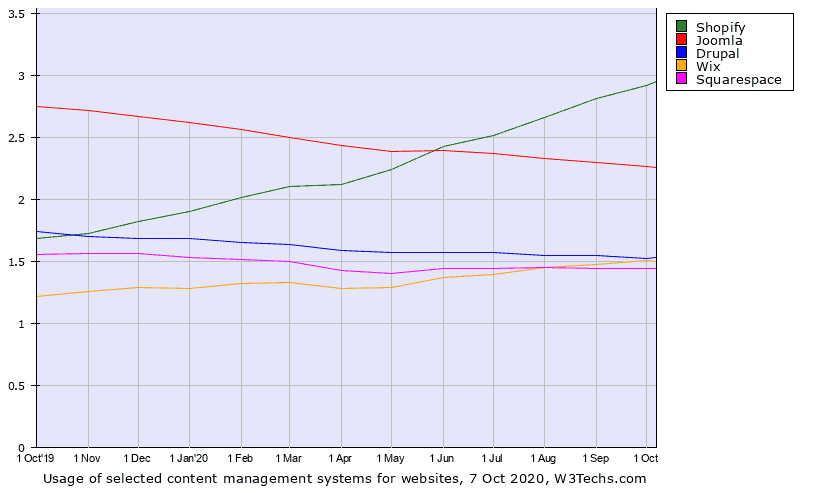 In short, looks like we will be seeing more and more WordPress websites and online shops built with Shopify in the future.
Hosted Solutions
When it comes to hosted solutions, according to BuiltWith, Wix takes the cake followed by Squarespace and Shopify.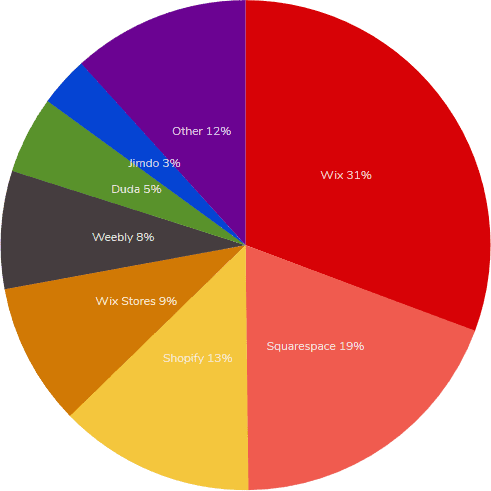 However, when you look at the top 10k, 100k, and 1 million websites, here, it's actually Shopify that dominates the hosted solution market.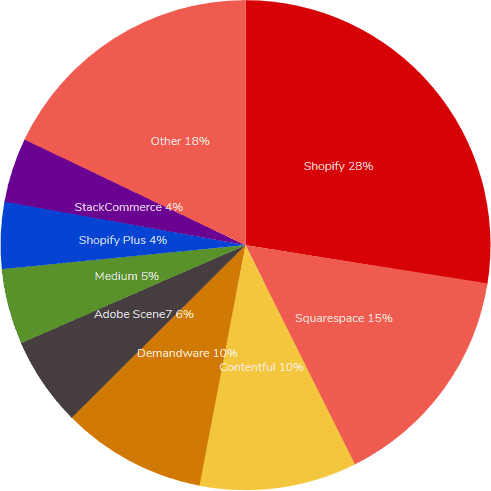 This gels with the earlier data, which shows that Shopify has made big strides in claiming market share.
Domain Name Statistics
You can't talk about web hosting statistics without talking about domains. After all, hosting is worth nothing if you don't have an address that people can find your website under.
Because hosting and domains are so closely connected, many companies offer both at the same time.
Total Number of Domains and Top TLDs
According to Verisign, in the second quarter of 2020, there were a total of 370.1 million registered domain names. Of those, the most popular top-level domains (TLDs) were;
.com: 40.2%
.tk: 7.4%
.cn: 6.5%
.de: 4.5%
.net: 3.6%
Quick info: .tk (Tkelau) is so high up there because it's the only TLD for which you can get domains for free.
However, these numbers are not undisputed. For example, W3techs sees the distribution of top-level domains as follows (October 2020):
.com: 51.6%
.ru: 6.3%
.org: 4.6%
.net: 3.4%
.in: 1.6%
This is also what Statista seemingly base their numbers on.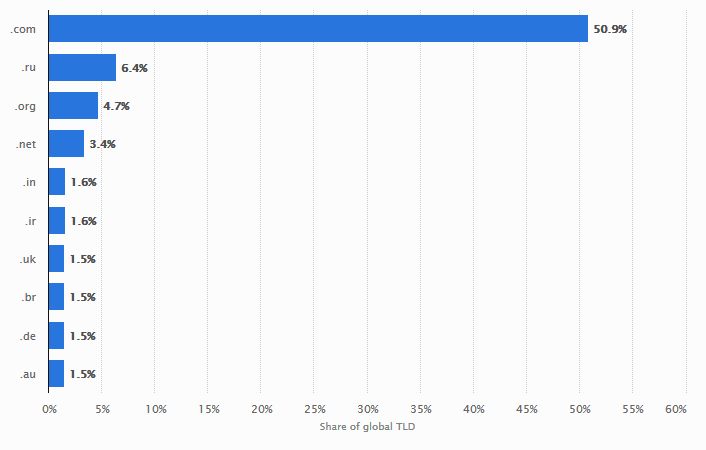 On the other hand, domainnamestats.com counts north of 525 million registered domains and puts the shares of TLDs as follows:
.com: 37.32%
.cn: 6.78%
.tk: 5.12%
.de: 4.21%
.net: 3.35%
These discrepancies are most likely the result of different ways of collecting data and/or methods of counting. What all of them agree on, however, is that .com is the most common top-level domain out there.
Biggest Domain Name Registrars
Aforementioned leaves the question, who is selling all those domains? Here, too, it really depends on who you ask. What all sources can agree on is that GoDaddy is the biggest fish in the pond. They command somewhere between 15% and 25% of the market, holding 3-81 million domains under their control.
That's a big margin, you say? Absolutely agreed, however, as we have already seen above, accurate numbers are sometimes hard to come by. Here's how different sources see the top 5 domain registrars. First, domainnamestats.com:
GoDaddy: 15.34%
NameCheap: 2.75%
Tucows: 2.36%
Alibaba: 1.87%
Network Solutions: 1.46%
On the other hand, here is what Statista thinks: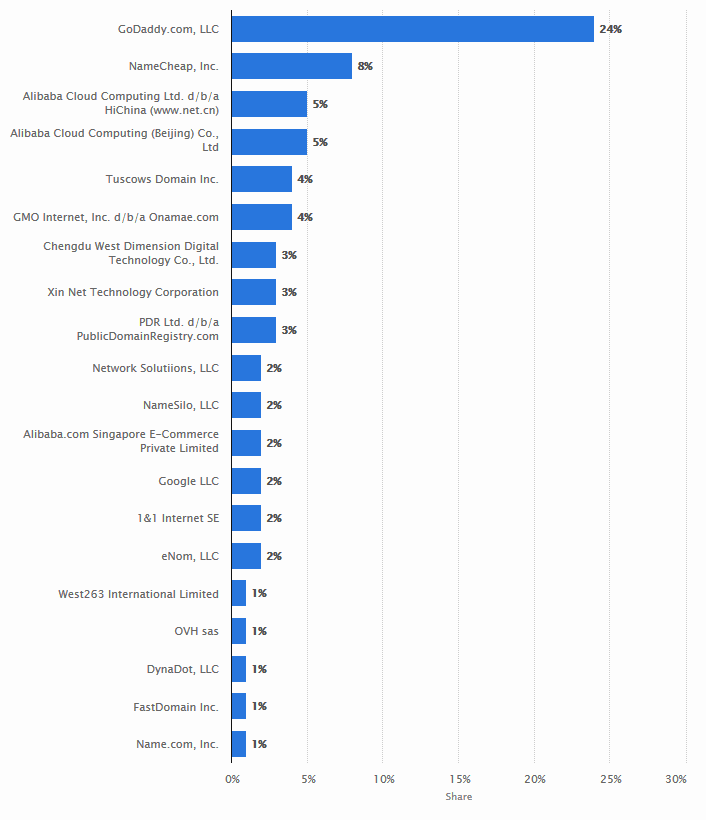 Generally, most sources can agree that those are the top dogs in the domain registrar game. However, you can often find different orders since they can't agree on the exact numbers when it comes to market share.
Web Hosting Industry Trends
Finally, after looking at current statistics for the web hosting industry, some predictions for the future.
The Need for Web Hosting Will Only Increase
At the time of this writing, about 62% of the world's population is online. That's a bit more than 4.8 billion people. Predictions say that this number will grow to six billion by 2022 and 7.5 billion by 2030.
All these people will want to surf the web, start their own online businesses, build and read blogs, found and interact with websites, create and use apps, and so on. In short, the need for web hosting services, servers, domains, and everything else involved with keeping the Internet running will only increase.
For example, the size of the global data sphere is predicted to reach 175 zettabytes by 2025 (1ZB=1 trillion gigabytes). Another forecast says that global mobile data traffic will reach 77.49 exabytes per month (1 EB=1 billion GB). As you can see, there will be a lot of need for infrastructure.
Cloud and Shared Hosting Continue to Grow
Much of these demands will be met by cloud hosting/computing, which is poised to become the dominant form of hosting. As already mentioned before, it's the type of hosting with the fastest growth rate and primary providers of cloud computing (AWS, Google) also continue to grow in size. It's also visible in the increased availability of pay-as-you-use hosting plans.
However, shared hosting will also see its growth. One of the main drivers for that is projected to be small and medium-sized enterprises (SMEs) in both emerging nations like China and India as well as more established markets like Germany and the US who invest heavily in proliferating SMEs. In addition, SMEs make up more than 90% of businesses so they represent a largely untapped market.
Besides that, Europe will likely see a lot of investment in green hosting as an effort to mitigate carbon emissions and meet the challenge of global warming. In short, the superlatives we are living with today will only become more impressive in the future.
Worldwide Web Hosting Statistics in a Nutshell
The web hosting industry is a huge market with lots of players and a lot of volatility. From humble beginnings, it went on to become a billion-dollar industry that will only grow bigger in size, especially in the shared and cloud hosting segment.
As we have seen, there are a few dominating figures who accumulate a lot of the technology in their hands. Yet, as the above statistics show, web hosting is also a market with huge local discrepancies. What's interesting to see is that it's an industry ruled by open-source software at every level. You can see that in the widespread use of Apache, Linux, and WordPress.
While the USA is the center of the web hosting market, with behemoths like GoDaddy being based there, other countries and continents are following suit. Overall, as humanity's access to the web continues to grow, we will only see more of this news. Looks like we will need to update the web hosting statistics regularly.