If you're just about to pick a web host for your next project, the one thing you might want to consider first is which of the popular web hosting control panels will be better for you. This is where the topic of cPanel vs Plesk comes into play.
The two are the most popular control panels for web servers and also the very best solutions that the market has to offer.
Today, we have a nice deep look into cPanel vs Plesk and compare them side by side. Read this to learn all the ins and outs, the similarities and differences between the two, plus get the primer on web hosting control panels in general.
This is everything you need to know about cPanel vs Plesk:
What Is a Web Hosting Control Panel Anyway?
In short, a web hosting control panel gives you a web-based interface to manage your hosting setup. The interface is a graphical one, meaning that it's easy to grasp, and you don't need to understand the workings under the hood in order to use it effectively.
The common things you can do via a hosting control panel are:
manage domain names
manage files on the server
manage email accounts
manage databases
see server stats
take care of server security
install server software
The main benefit of control panels like cPanel and Plesk isn't only the fact that they allow you to take care of all of the above, but that they do so in an easy-to-comprehend manner. This means that the end-user can do most of the standard server management tasks on their own.
cPanel vs Plesk – Side-By-Side Comparison
These two hosting control panels are the most popular of their kind, and that's why we've chosen to make them the topic of this comparison.
The older of the two – cPanel – was released in 1996 and soon became the standard for all commercial servers that needed a control panel that could be handed over to casual users.
Plesk was born in 2001 as a response to the Linux-only cPanel and became the primary control panel to be used on Windows-based servers (though it has versions for Linux as well).
User Interfaces And Ease of Use
From the user's point of view, both cPanel and Plesk are pretty similar-looking. The differences are in the details of how you can access given features and how easy to get to they are.
Here's the cPanel dashboard: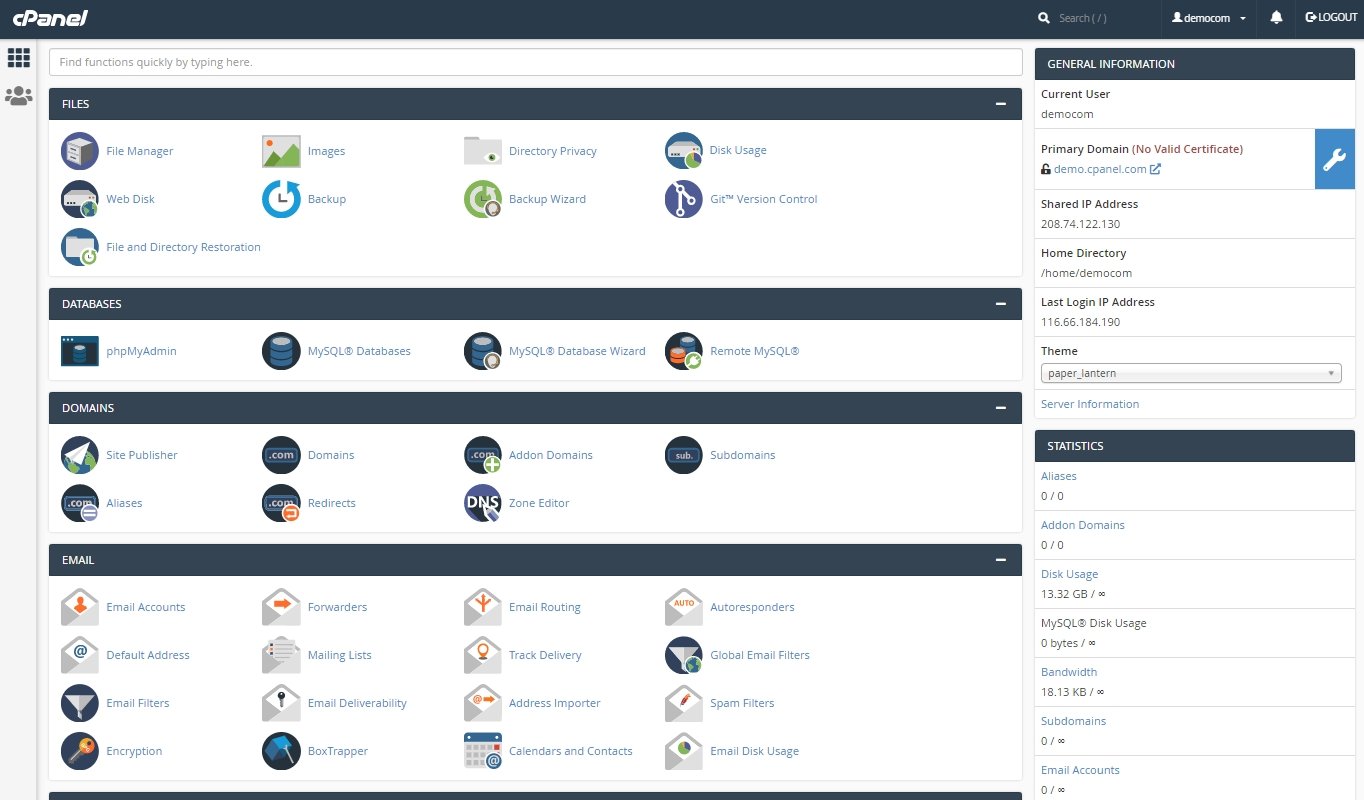 And here's the Plesk dashboard: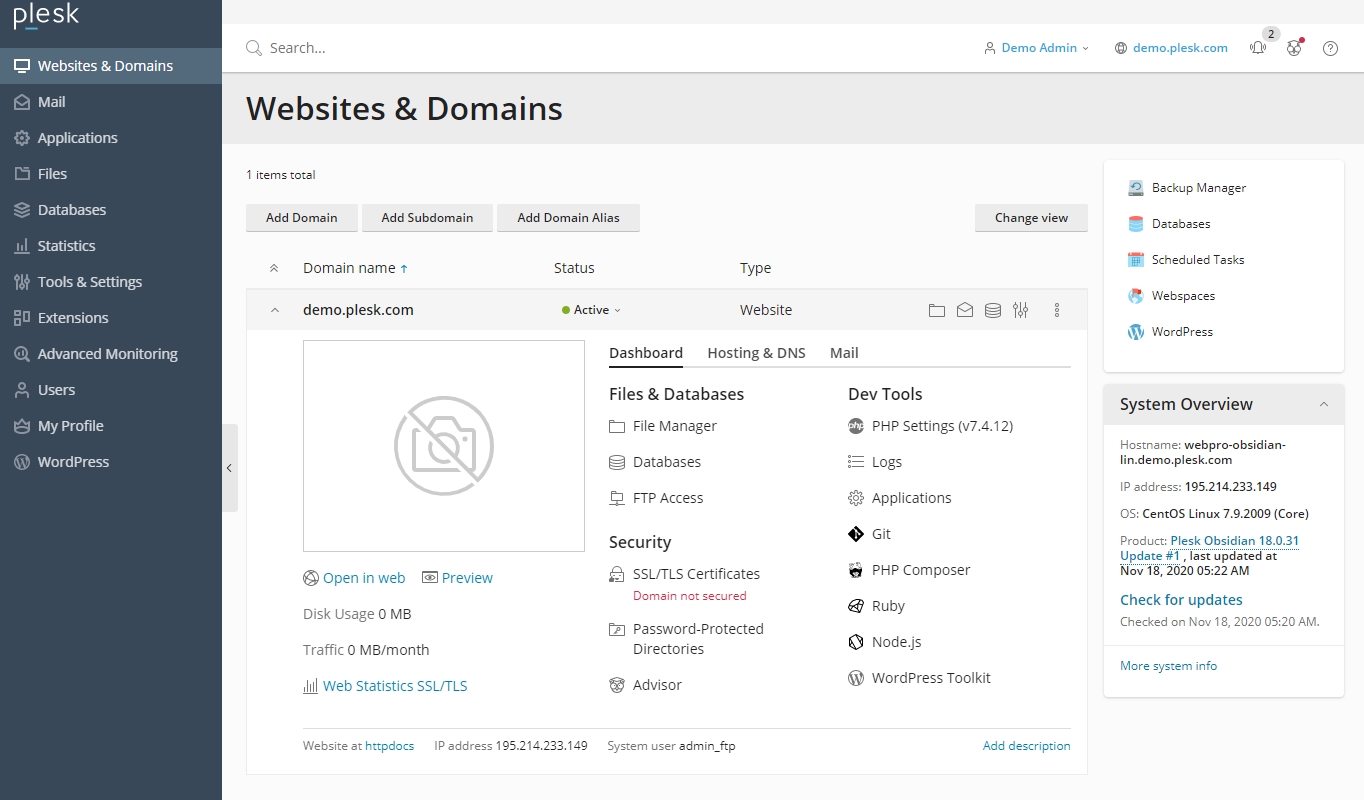 The cPanel dashboard seems a bit easier to navigate if it's your first time interacting with a hosting control panel. Even though there's a lot of sections available, they are very clearly labeled and every area of the panel is easy to get to.
In other words, when using cPanel, you can be sure that you're going to find what you need somewhere among the many colorful icons in each section.
The Plesk dashboard follows a slightly different model and organizes its features based on the individual sites that you're hosting on your setup. Then, for each site, it displays only the settings and configurations that apply to it.
For example, if you want to add a new email account to a domain name:
in cPanel, you first go to Email and then select the domain that you want to assign the new email account to,
in Plesk, you first select the domain and then get to decide what you want to do with it – in this case, assign a new email.
In other words, cPanel puts focus on features first, whereas Plesk puts focus on domains / hosted sites first.
At the same time, however, Plesk also displays the most top-level settings inside a side panel, which makes them easier to access than in cPanel.
Noteworthy Features in cPanel vs Plesk
When it comes to the must-have features, both cPanel and Plesk don't disappoint. They offer you:
Domain management – add new domain names, configure and manage them.
File management – upload new files to the server, manage them, do backups and restores.
Email management – set up new email accounts, manage them, access webmail, configure spam filters, mailing lists, forwarders.
Database management – set up databases and manage them.
Stats – see the volume of traffic the server is getting.
Security – SSL certificates, SSH access, IP blockers, etc.
Software installers – easy installations of popular web scripts such as WordPress, Joomla, and others.
Apart from that, there are also some unique characteristics of each platform that set it apart:
cPanel:
It's a platform that's more common among many hosting providers and is usually cheaper for the end-user.
It allows you to set up free SSL certificates via Let's Encrypt (AutoSSL), but you can also switch to Comodo or other certificates.
Although cPanel runs on a fewer number of operating systems overall, it supports Amazon Linux, which Plesk does not.
Great automatic backups and restorations. You can take advantage of a couple of built-in back-ups and restore mechanisms.
Plesk:
You can run Plesk on Windows and more than a dozen Linux distributions including versions of Debian, Ubuntu, CentOS, Red Hat Enterprise Linux, CloudLinux, and Virtuozzo Linux.
Built-in support for Docker, Git, Node.js, and WordPress Toolkit (great if you want to implement some WordPress automation and get additional management features).
Easy SSL integration with a single click. Plesk will take care of obtaining an SSL certificate from Let's Encrypt and integrating it into your sites.
WordPress users can take advantage of automatic updates, bug fixes, and patches. In other words, Plesk takes care of most of your WordPress security needs.
Security
Both cPanel and Plesk stand strong on the security front. We already listed some security features above in the other sections of this comparison, but just to reiterate:
cPanel:
AutoSSL – automatically installs and renews Let's Encrypt SSL certificates.
cPHulk brute force protection.
Support for CSF (ConfigServer Security & Firewall).
Email spam filters.
Each user also gets to use: SSH access, IP blocker, hotlink protection, leech protection, ModSecurity, two-factor authentication.
Plesk:
Plesk Firewall – Plesk's custom firewall that you can configure.
AutoSSL – automatically installs and renews Let's Encrypt SSL certificates.
ImunifyAV – intelligent antivirus and monitoring tool; one-click malware cleanup, domain reputation monitoring, blacklist status checking.
Fail2ban – a tool to scan log files and ban IP addresses that appear to be doing malicious things.
Email spam filters.
Cost Comparison
The topic of the costs involved in working with cPanel vs Plesk is two-fold in nature:
(a) you can buy either cPanel or Plesk individually and install them on your own web server – a physical machine that you have access to,
(b) you can sign up with a web hosting company that uses cPanel or Plesk as their hosting control panel.
Let's start with a scenario (b). We've listed some of those companies before. Here they are again, but this time with the prices:
Cost Comparison

| Plesk | cPanel |
| --- | --- |
| HostGator. The shared plans start at $4.76 a month. The enterprise plan is $14.36. | SiteGround. The StartUP plan is $3.95 a month. |
| A2 Hosting. The shared hosting plans start at $4.90 a month. Managed WordPress plans are $11.99 and VPS hosting is $36.29. | A2 Hosting. Starting at $3.92 a month. |
| Liquid Web. Their Plesk-powered offerings start at $59 a month for cloud VPS plans, $169 for cloud dedicated servers, and $219 for managed dedicated servers. | Bluehost. Shared hosting plans starting at $2.75 a month. |
As you can see, getting a hosting plan that supports cPanel is overall cheaper, especially if you're looking for entry-level hosting.
Now for scenario (a) – getting either cPanel or Plesk and installing them on your own server.
Here's the pricing for Plesk: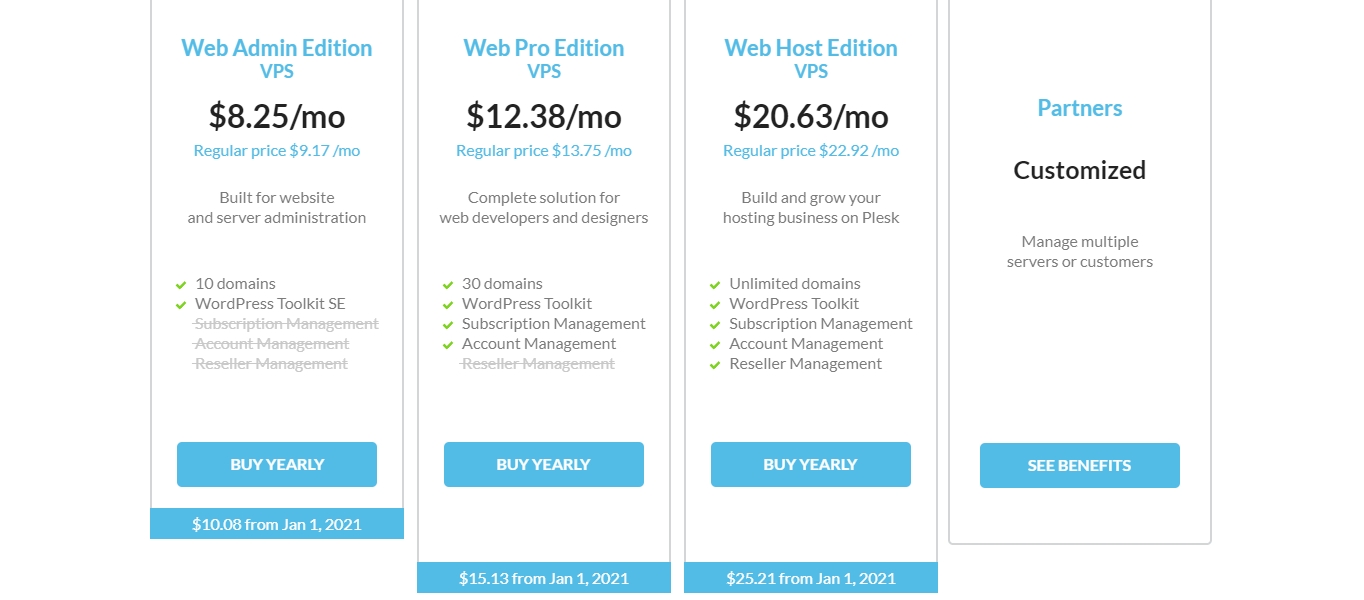 Here's the pricing for cPanel: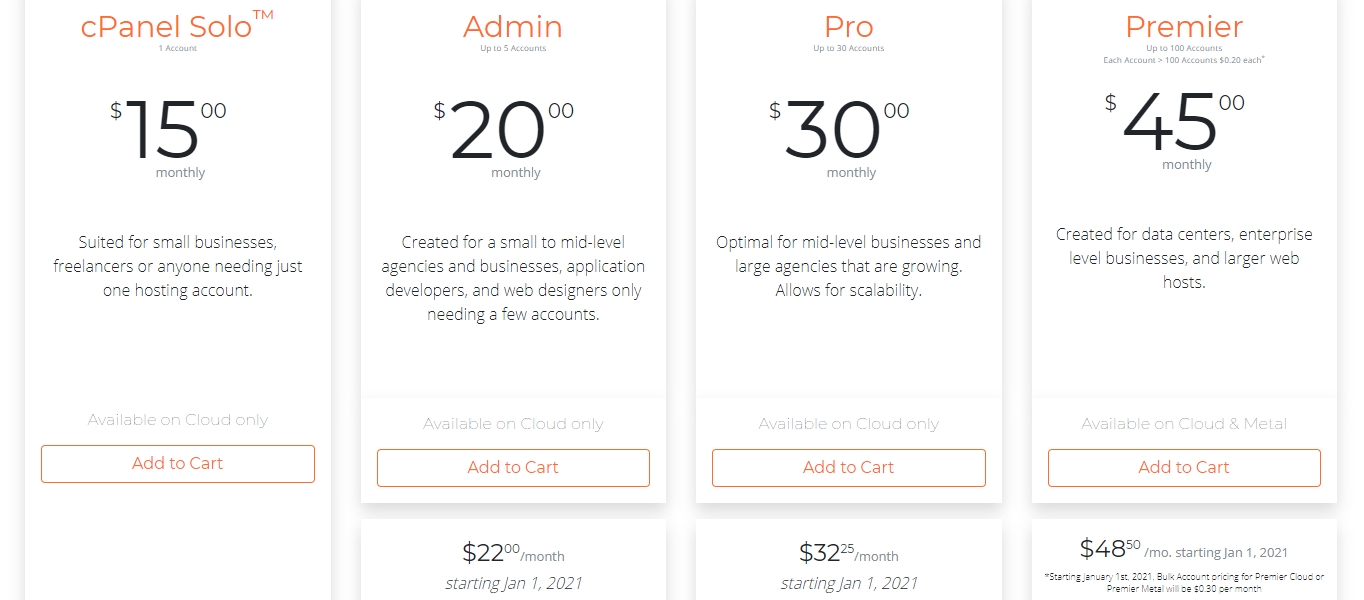 In this case, it's Plesk that's a bit cheaper.
Overall, the cost riddle comes down to what you need either cPanel or Plesk. If cost is of the essence, our recommendation is this:
if you're going to be hosting your sites with an external web hosting company, cPanel is generally cheaper
if you're going to be hosting your sites on your own web server machine, Plesk is generally cheaper
Conclusion – Which Is Better?
We're afraid this is not as simple as which is better. Both of these web hosting control panels are excellent, so it all comes down to which features are essential in your case and what you want to use the control panel for.
Here's a quick summary that might make your decision easier:
 

| Feature | Plesk | cPanel |
| --- | --- | --- |
| Works on | Debian versions 8 and 9, Ubuntu version 14 or later, CentOS versions 6 and 7, Red Hat Enterprise Linux versions 6 and 7, CloudLinux versions 6 and 7, Virtuozzo Linux version 7, Windows Server 2008 R2 SP1, Windows Server 2012 and R2, Windows Server 2016 | CentOS versions 6.5 or later, CloudLinux versions 6 and 7, Red Hat Enterprise Linux versions 6 and 7, Amazon Linux |
| Webserver | Apache, NGINX, IIS | Apache (EasyApache 4) |
| Mail server | Postfix, MailEnable, SmarterMail, IceWarp Mail Server | Dovecot |
| DNS server | BIND, Microsoft DNS Server, Simple DNS Plus | BIND, MyDNS, PowerDNS, NSD |
| Stats | Webalizer, AWStats, SmarterStats | Webalizer, AWStats |
| Scripting | Perl, Python, PHP 5.2–7.1, Apache Tomcat, ASP.NET | PHP, Ruby, Ruby on Rails, Perl, Python |
| Databases | MySQL, PostgreSQL, MariaDB, Microsoft SQL Server | MySQL, PostgreSQL, MariaDB |
Overall, both of the control panels make it possible to take full advantage of your web server and its capabilities and also do so in an easy to grasp manner. Both also have devoted communities and user bases built around them. What this means is that no matter what your project might be, you will be able to find some helping hands when needed.