Do you want to establish an online presence for yourself and/or your business?
In 2017 it's absolutely essential that you do so. Whether you're looking to solidify your brand, make your business more credible, or get more customers and exposure, it's key that you have a website.
And the first step to creating a game-changing website is to register a domain name.
WHY DOMAIN NAME IS IMPORTANT
It's your "first impression".

 Your URL is the first thing your visitors will see. A good domain name can make a positive and lasting impression, while a bad domain name can send visitors running.

It affects SEO.

 While exact match domains (EMDs) are no longer a necessity, keywords in your domain name can still help your SEO ranking.

It defines your brand.

 Your domain name is a branding opportunity. The right domain name can increase brand recognition.
Now, hopefully you've already taken the first step of choosing your domain name. If you haven't yet, then check out this post before you read any further:
Okay, do you have a domain name in mind? Great.
Follow along to the rest of this post and you'll have everything you need to successfully register that domain name and build your online presence.
First up, we'll answer some of common questions about domain name registration…
Common Questions About Domain Name Registration
1. How much does a domain name cost? Can you get it for FREE?
Domain name prices vary, but you can typically find one for pretty cheap. It shouldn't run you more than $10-$15 a year depending on your registrar (i.e. GoDaddy, Nameheap, etc.).
Some web hosting providers offer free domain name for NEW clients, these include:
Bluehost (affiliate link)
The downside? You'll need to use their hosting services.
BUT, if you don't have a web host yet, it's wise to sign up with them and grab a free domain until it lasts. Because when you're setting up a website – you'll need a hosting service anyway.
Further reading: What is a Web Host & Why You Need It
2. What are Domain Name extensions?
Domain name extensions are categories of internet domain names.
When choosing your domain name, there are several extensions you can choose from, like:
But you can be sure of one thing: ".com" is still far and away the best domain name extension.
According to research from Registrar Stats, 75% of domains have the ".com" extension, second is ".net" and third is ".org".
And so, ".com" is more familiar and easier to remember. My advice is to go with ".com" – it's the safer bet. If you're chosen domain name is already taken by a ".com", you'd be better off choosing a new domain instead of a new domain name extension.
3. What are Domain Name Registrars?
Domain name registrars are organizations that manage the reservation of internet domain names. You'll need to use one of these registrars to register your domain name.
Here are some of the top domain name registrars on the web:
Okay, now that I've covered some of these common questions, let's talk about how to actually register your domain name…
How to Register a Domain Name using GoDaddy & NameCheap
As I mentioned earlier, there are several domain name registrars for you to choose from.
For the purposes of this post, I'll cover two most popular domain name registrars – GoDaddy and NameCheap.
Registering Your Domain with GoDaddy
Step 1: Go to GoDaddy.com and type in your chosen domain name.

Step 2: When you see that your domain name is available, select the $2.99 option. Then, select "Continue to Cart" on the top right.

Step 3: On the next screen, select "No Thanks" under "Select plan".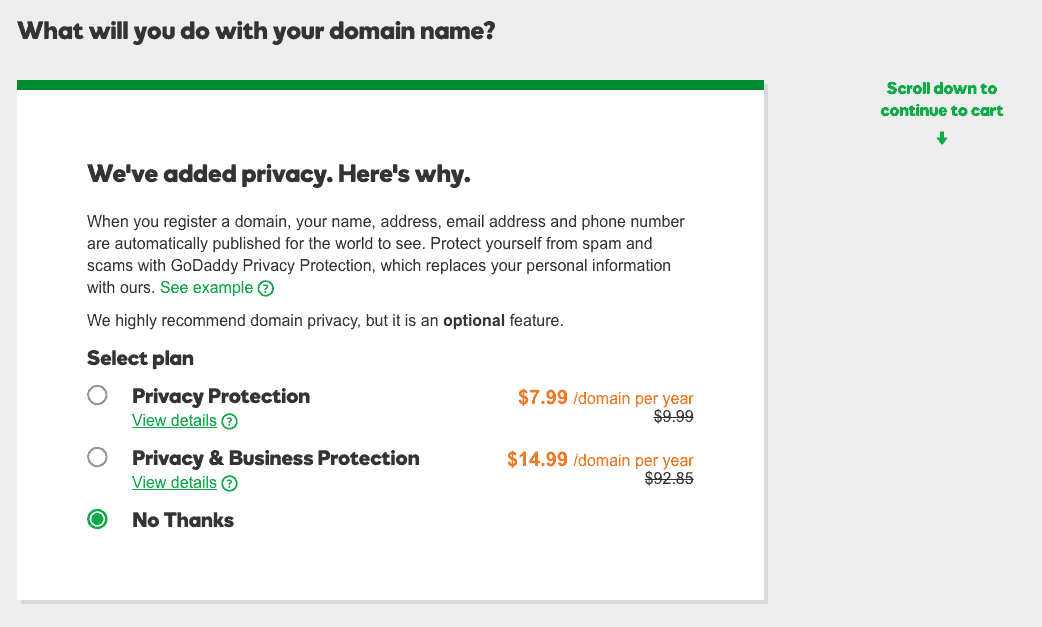 Step 4: Scroll down and select "Continue with these options".

Step 5: Select the term and proceed to checkout.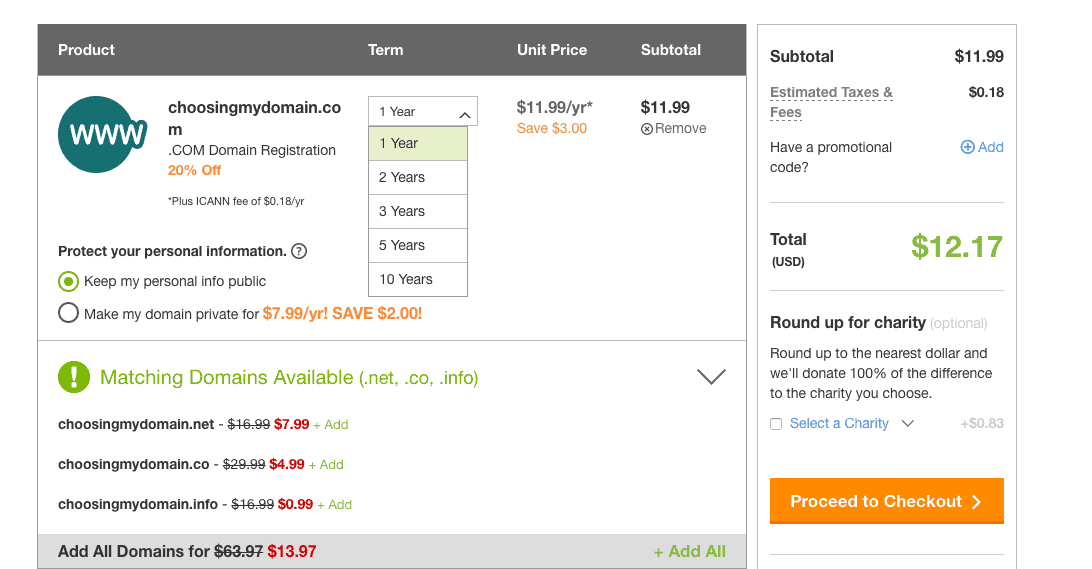 Here you can select the term (i.e. the number of years) to register your domain. The longer the term, the cheaper it will be.
I recommend doing it for at least two years, as this will save you some money and you won't have to worry about renewing after the first year.
The term length is your choice. If you're absolutely committed to making your website work over the long term, perhaps you should even select the 5 year term.
Either way – once you've selected your term, hit the "Proceed to Checkout" button.
From there, just enter your payment details. Just like that, your domain name will officially be registered!
Registering Your Domain with NameCheap
Step 1: Go to NameCheap.com and type in your chosen domain name.

Step 2: If your domain name is available, click the add to cart button.

Step 3: On the right side of the page, click the "View Cart" button.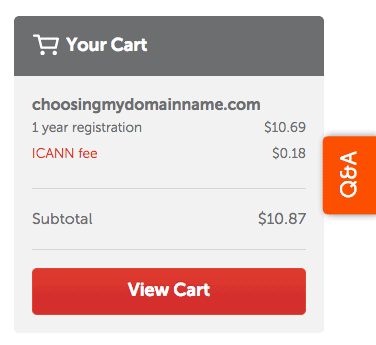 Step 4: Select the length of your term and click "Confirm Order"

Step 5: Create an account or login to your current account.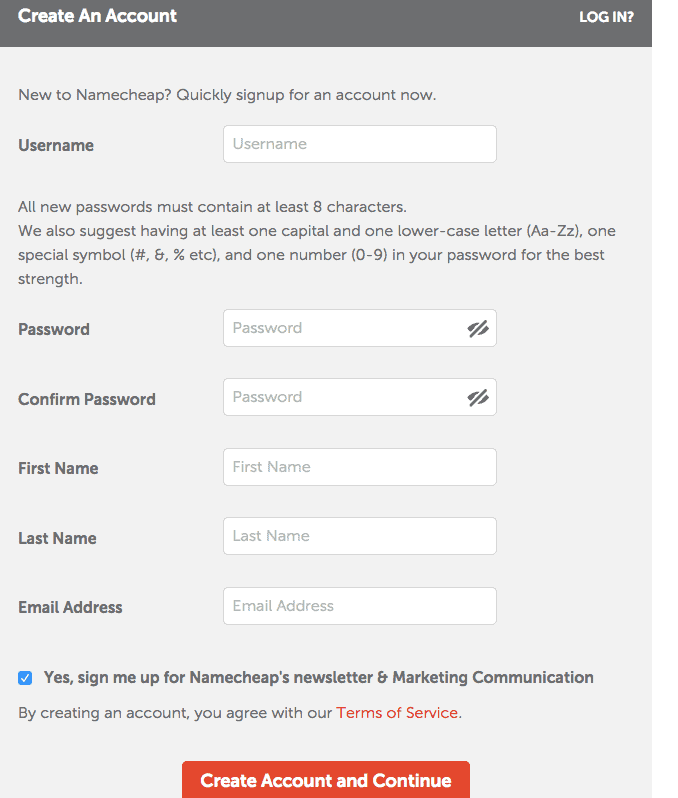 Step 6: Input account and payment details, and make the purchase.
Once you complete these steps, your domain name will be officially registered!
Additional Important Domain Name Registration Tips
How to Change Domain NameServers
Domain nameservers (DNS) are the internet's equivalent of a phonebook.
To change your nameserver, you must login to the domain name registrar with whom you registered your domain.
From there, the process will vary based on your registrar. But here are the basic steps:
Find the DNS manager within your registrar.

Locate the DNS that you'd like to change.

There will typically be some sort of option like, "Use custom nameservers". Click that option.

 From here, type in your desired new nameserver.
Don't Forget to Renew Your Domain!
Depending on the length of your domain name term, you'll have to renew your domain name in a year, two years, or longer.
But it's crucial you remember to do so – otherwise, your domain name will go offline. And if you don't catch on within a few weeks, your domain name will go back up for sale and somebody else can buy it – not good for you!
So, make a note to renew your domain before it ends. Perhaps a Google calendar reminder or a reminder from your smartphone. Whatever the case, make sure you don't forget.
For some domain name registrars (like the one's we mentioned above), you can set it to automatically renew your domain at the end of its term. This is the safest option – just make sure that you keep your payment information up to date (this can be easy to forget).
Conclusion
If you don't have a website yet, then 2017 is the best time to get started. And the first step to creating your website is to register your domain name.
With this simple guide, you can register your domain name quickly and easily. And before you know it, you'll have your own little piece of the web!