Arvixe was founded by Arvand Sabetian in 2003 and was later acquired by EIG (who owns a ton of other hosting companies including Bluehost) in 2014. They have been hosting thousands of small business, personal, and enterprise websites worldwide. They also claim to be one of the fastest-growing hosting companies in the world.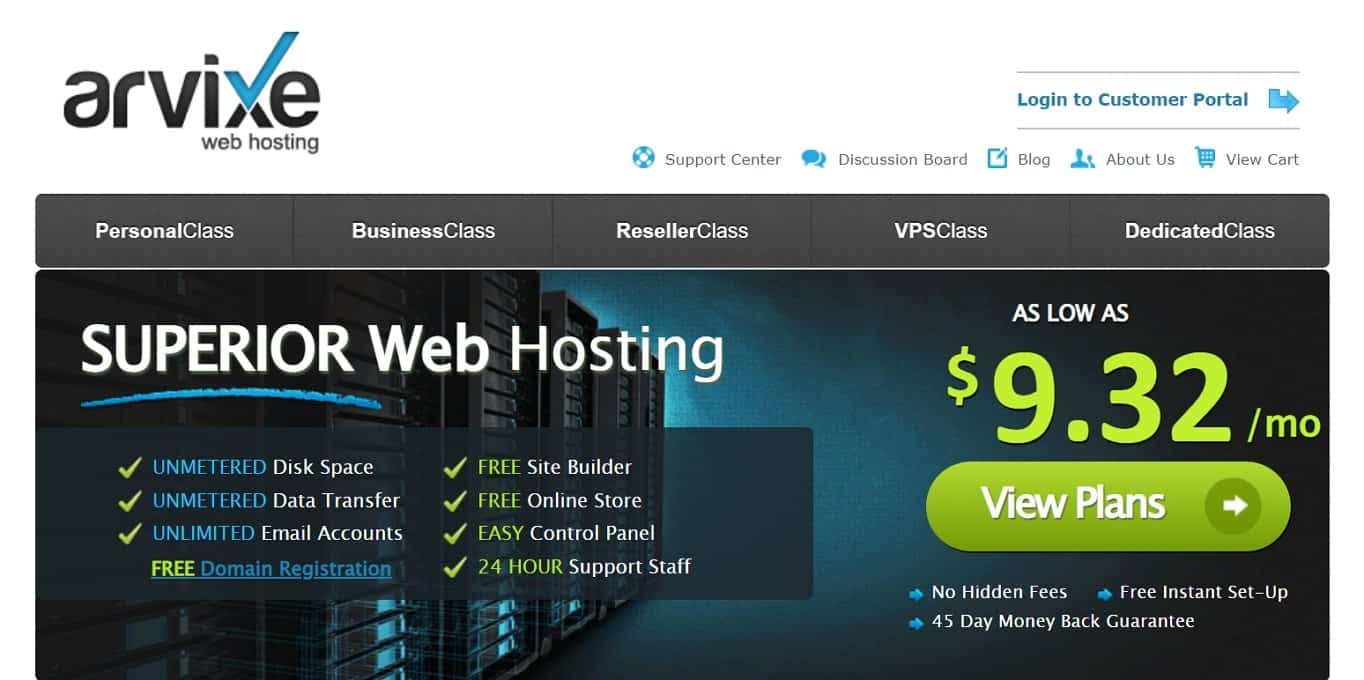 Arvixe prides itself on providing web hosting with extreme reliability, affordability, and quality.
However, does Arvixe stand up by its promises?
We purchased Arvixe's 'Personal Class Plan' and tested their service thoroughly – checking their uptime, speed, features, and even customer service quality.
Here's an unbiased overview of what we found.
General Info & Hosting Overview
---
Our Verdict: 2.0
| | |
| --- | --- |
| SPEED: | 1060 ms (March 2022 to August 2022) |
| UPTIME: | 99.98% (March 2022 to August 2022) |
| SUPPORT: | 24/7 Live Chat, Emails, and Ticketing, Knowledge Base |
| APPS: | WordPress, Magento, Joomla, Drupal, Prestashop, Moodle, WooCommerce, and more |
| FEATURES: | Unmetered Bandwidth and Storage, Email Accounts, Site Builder, Softaculous Installer, Backups, DDoS Attack Response, and more |
| HOSTING PLANS: | Shared, VPS, Dedicated, Reseller, and Business Hosting |
| SITE TRANSFER: | Free migration for all of your websites |
| PRICING: | Starting at $9.32/mo (2-year commitment) |
---
Pros of Using Arvixe Hosting
---
Arvixe has quite many pros going on for them. For starters, they have solid loading times, offer plenty of unlimited features, and include a 45-day money-back guarantee to try out their services risk-free.
Let's have a more detailed look at what Arvixe has to offer.
1. Great Uptime – 99.98%
Arvixe was known for its poor uptime in previous years. For example, their average uptime from February 2019 to January 2020 was 92.95%. So we were eager to see if they can improve their data in the future.
During the 6-month test period, our test site on Arvixe delivered a great uptime of 99.98% with less than an hour of downtime.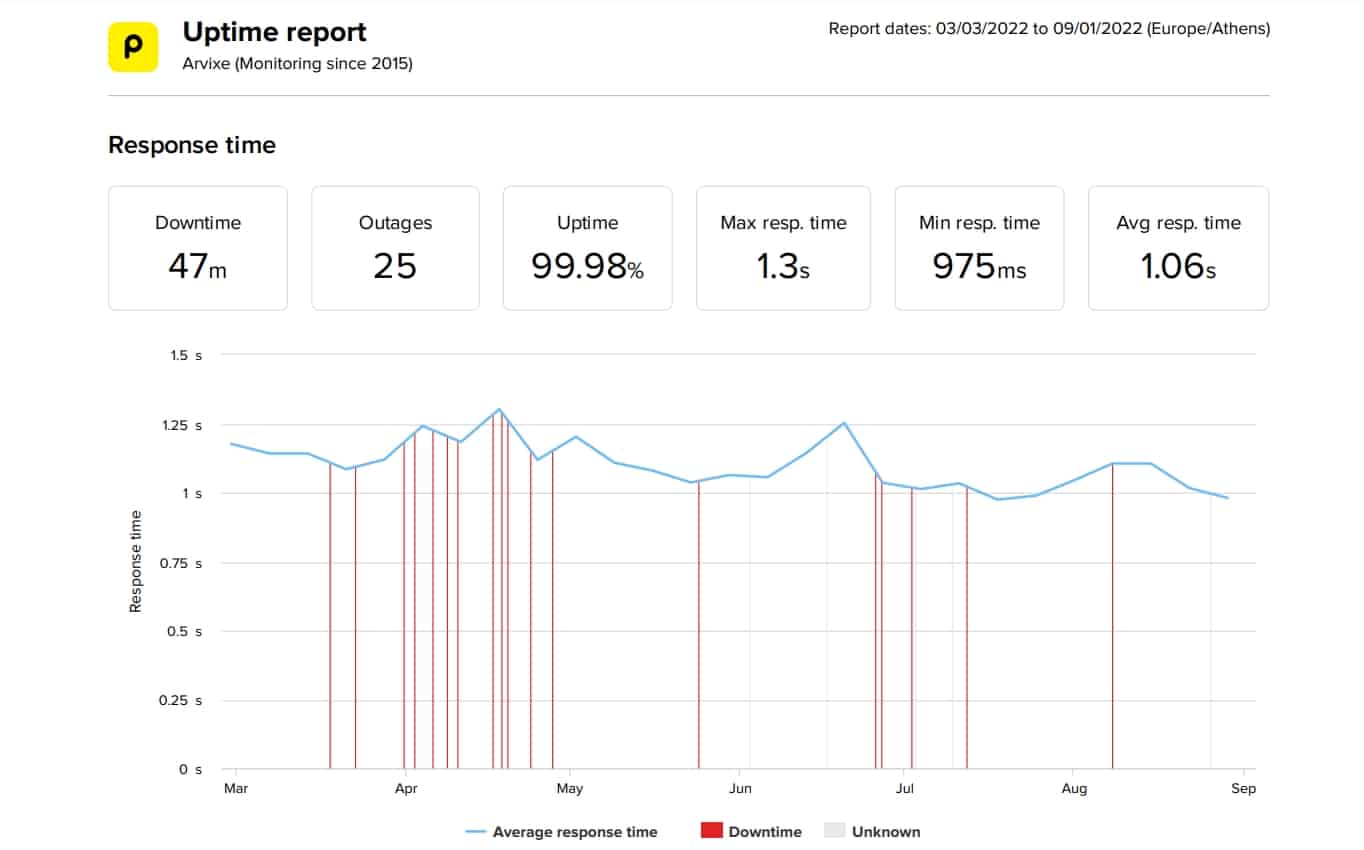 Last 6-month average uptime:
August 2022: 99.99%
July 2022: 100%
June 2022: 99.99%
May 2022: 99.99%
April 2022: 99.97%
March 2022: 99.96%
2. Advanced Plan Features
Arvixe included many advanced features on all of their basic plans that you'd normally have to pay much more with other hosts.
Their cheapest shared hosting plan has unlimited storage and bandwidth standard. And they allow you to use up to six domain names.
They will also include free Google, Yahoo, and Bing ad credits (worth $100), which is a nice added bonus if you're already thinking about using online ads to grow your business or readership.
Moreover, you get unlimited email accounts with all of their plans.
3. Numerous Proactive Security Options
Arvixe also includes a variety of proactive security measures to help you to protect your site. For example, their plans come with:
SpamAssassin
Spamhaus&SpamCop Checks
Domain Keys
SPF for email security
In addition, they also offer daily backups, brute force detection, nightly security updates, a firewall, SSL support, and SSH access, too.
4. Free cPanel Site Migrations and Free Domain Name
Arvixe treats new customers right. Instead of trying to make a few extra bucks, they'll happily manage site migrations for you— as long as your current host provides cPanel access.
There's no cost for multiple sites, either. So you can save hours (and potentially hundreds of dollars) by leaning on Arvixe to help you out.
Arvixe also includes a free domain name for the first year with all of their hosting plans.
5. No Renewal Price Increases
Another perk that should definitely be mentioned is that Arvixe doesn't nickel-and-dime new customers after their initial plan expires.
Imagine this:
You go through all the trouble to find a new web host. You move your site, domain, and everything else over. You prepay for a few years to get the best deal.
Now, how likely are you to want to switch hosts again when your plan expires? Chances are, not very likely.
The problem is that many other hosts will take this opportunity to double the price right under your nose. Basically, you're getting the same exact service, but paying way more, because they know you won't want to change hosts at the end of the day.
Arvixe doesn't do this, though. Your renewal pricing will be the exact same as the initial cost you signed up for.
6. 45-Day Money-Back Guarantee
Arvixe doesn't offer a free trial, but they do feature a no-questions-asked refund policy. This means you can prepay for a few years to get the best bang for your buck. And you can try out their service for 45 days with relatively little risk.
If you're unhappy with the page loading speed or uptime or anything else, just say the word and you'll get your money back.
However, please keep in mind that these refunds are only available for shared, reseller, and VPS hosting plans. Dedicated servers are not covered under this clause. Neither are administrative fees or extra purchases, like domain names (no other host includes these, either, for what it's worth).
Also, it's worth mentioning that the 45-day money-back guarantee applies only for first-time shared hosting accounts.
7. Easy-to-Use cPanel and Dashboard
Arvixe's dashboard is simple to navigate around. There you can manage your billings, and domains, see your active services, and also contact support. You will also have an overview of usage statistics and quick shortcuts. On the left side under "Actions" you can find login to cPanel.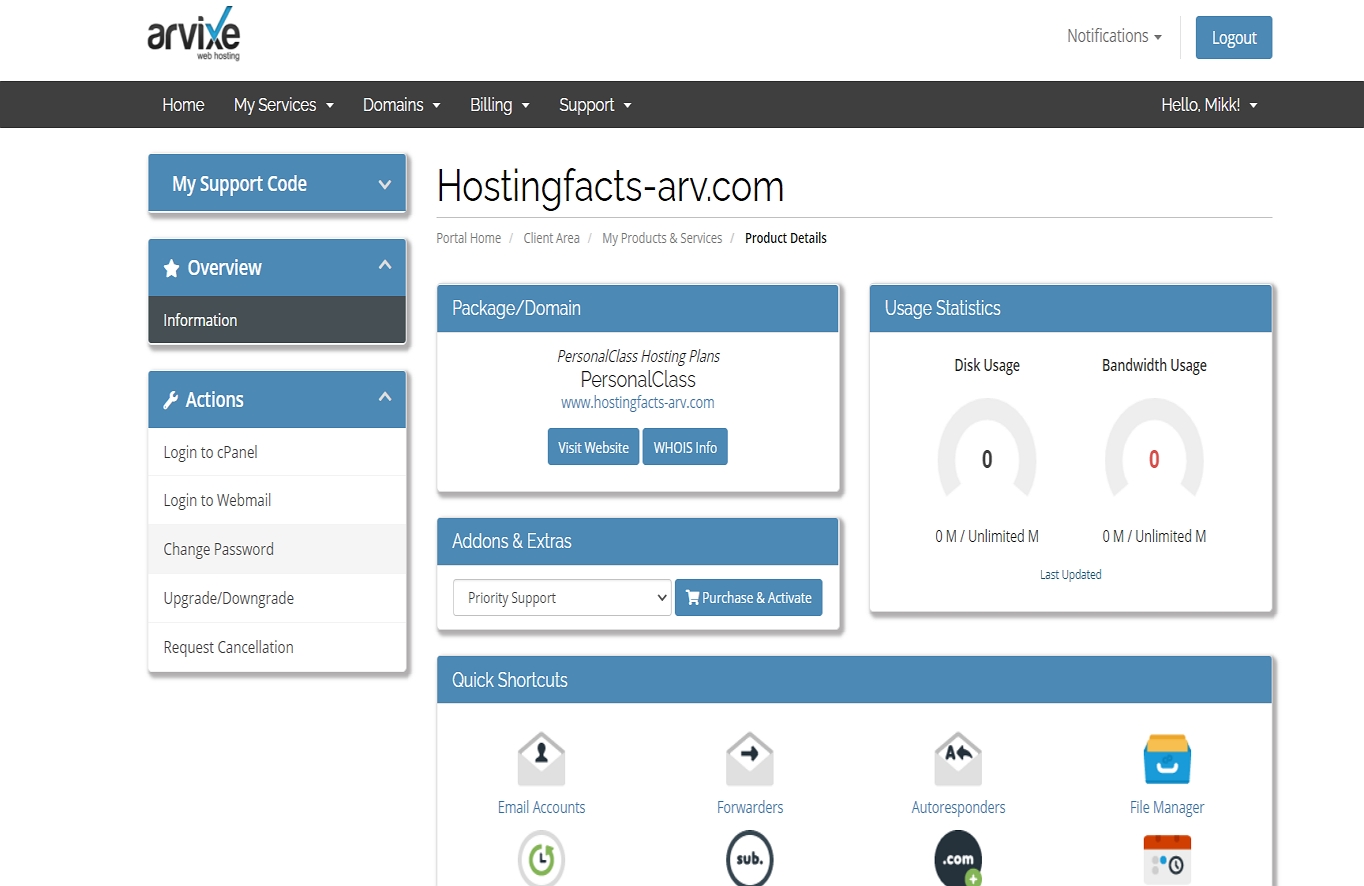 cPanel is the most popular control panel in the hosting industry and for a reason – it's easy to use. From the control panel, you can do all the necessary actions needed for website hosting (manage your files, databases, access email accounts, and more).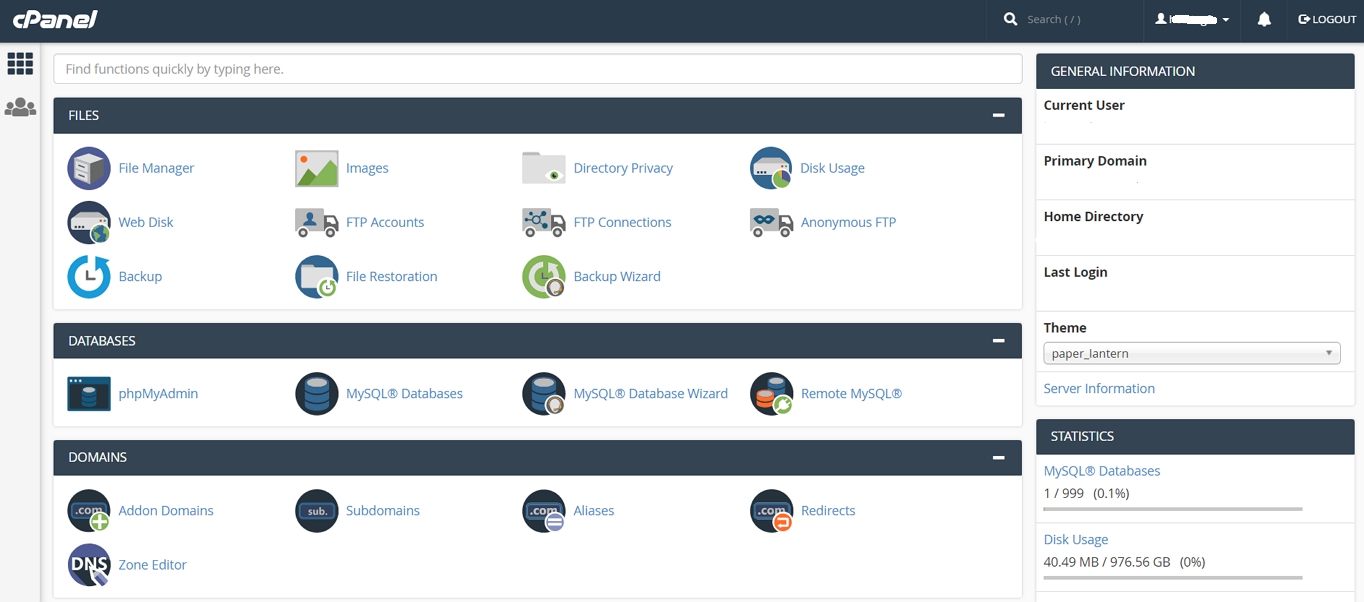 Overall, Arvixe's backend is simple and straightforward to use.
Cons of Using Arvixe Hosting
---
Although Arvixe's features seem pretty good at first sight, there are also quite many downsides that need to be covered.
For instance, Arvixe's slow speed and customer support are something you cannot ignore. Also, they are a bit too pricey compared to many other cheap hosts on the market.
But let's check out each con in more detail.
1. Over 1 Second Load Times
Sadly, Arvixe's load times are nothing to brag about.
Over the past 6 months, their average page load time was 1060 ms. This places them in the bottom tier of our tested hosts.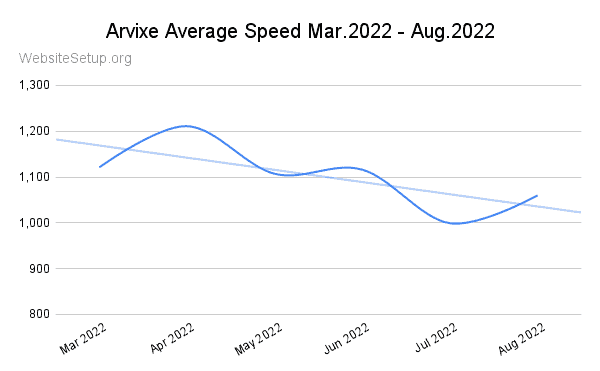 This is bad, mainly considering how crucially important (yet neglected) page speeds are for the success of your website.
For example, according to Google, there's a 90% increase in bounce probability when page load speed drops from 1 to 5 seconds.
That's how critical site speed is. It affects usability to the point that it actually costs you lost conversions.
But on the bright side, they're much faster than during our last testing period when their loading time was over 6 seconds!
2. Weak Customer Support Response
Arvixe offers customer support by phone, knowledge base, and live chat. We tested out the latter.
We were connected to the customer support rep quickly and we continued by asking a question about whether they offer a free SSL Certificate with their shared hosting plan. Even though the question was very simple, the customer support rep seemed a little bit unknowledgeable and couldn't give us a prompt answer.
Overall it took us about 10 minutes to get a  simple yes or no reply.
3. Expensive Plans & Pricing
Arvixe's lowest $9.32 per month plan doesn't sound too bad on the face of it, until you realize that's for two years, paid in full upfront.
Want a shorter time period? Month-to-month even? You'll have to pay even more starting at $10.65 (annual term) and $13.31 (monthly).
It's nice that they throw in a few helpful extras, like unlimited bandwidth, to offset this cost. However, it's still steep, especially considering the performance issues we discussed above.
4. SSL Certificate Costs Extra ($25/year)
Websites today are practically required to use SSL certificates. Google Chrome, the most popular browser online today, actively warns people from using certain sites that don't have them.
Overall, that's a good thing for everybody. It helps keep your information safe and sound while you browse around.
That's why lots of web hosts will include free SSL certificates in all of their plans now. Anyone can get a free one through Let's Encrypt, too.
But unfortunately, you can't get a free one through Arvixe. They're charging another $25/year for each one.
Want a Wildcard SSL Certificate?
In this case, be ready to pay $149/year

Arvixe Pricing, Hosting Plans & Quick Facts
Arvixe offers two shared hosting options: Linux and Windows.
We'll be breaking down their hosting plans for you.
Linux Shared Hosting:
---
| | Personal Class Plan | Personal Class Pro Plan |
| --- | --- | --- |
| Pricing | $9.32/month | $13.31/month |
| Websites | 6 | Unlimited |
| Bandwidth | Unmetered | Unmetered |
| Storage | Unmetered | Unmetered |
| Email Accounts | Unlimited | Unlimited |
---
Windows Shared Hosting:
---
| | Personal Class Plan | Personal Class Pro Plan |
| --- | --- | --- |
| Pricing | $11.62/month | $15.97/month |
| Websites | 1 | 5 |
| Bandwidth | Unmetered | Unmetered |
| Storage | Unmetered | Unmetered |
| Email Accounts | Unlimited | Unlimited |
---
Quick Facts
Free domain? Yes.
Ease of Signup: Single-page sign-up. Easy sign-up.
Money-Back: 45-day money-back guarantee.
Payment Methods: Credit Card, PayPal.
Hidden Fees and Clauses: No hidden fees. A money-back guarantee applies for first-time shared hosting accounts only.
Upsells: No upsells.
Account Activation: Instant Activation.
Control Panel and Dashboard Experience: cPanel for Linux hosting and WebSitePanel for Windows Hosting.
Installation of Apps and CMSs (WordPress, Joomla, etc.): Softaculous for one-click installation of apps and CMSs.
Other Features: DDoS attack response, unmetered MySQL Databases, HTML editor, Daily Backups, Site builder.
Do We Recommend Arvixe Hosting?
No, we don't.
We like the security options and daily backups. The unlimited bandwidth and storage are helpful, typically only seen on more expensive plans elsewhere. A free domain name for the first year is a very nice touch.
Another good news is that they have hugely improved their uptime.
However, we just couldn't get past their poor loading times – taking an average of over 1 second to load a website is way too slow nowadays.
Also, their customer service was just not good enough and Arvixe's pricing is a bit too crispy.
While they may have been a great host years ago, they are no longer that.
You'd be better off checking our top-performing hosts here to find more reliable and cheaper hosts.
---
Best alternatives for Arvixe: 
---
Any experience with Arvixe? Please leave a comment below. We welcome all – good or bad reviews – as long as they're honest and transparent.